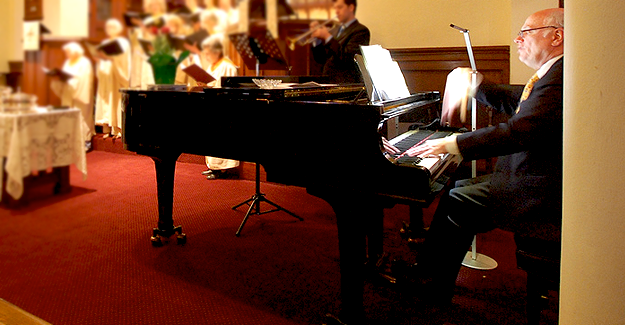 William Merrill is Our Music Director & Organist
Bill is one of Boston's most highly respected collaborative pianist/coaches. He has worked with luminaries such as Helen Donath, Roberta Peters, Erie Mills, Eleanor Steber, and Deborah Voigt, as well as many other eminent singers.The Boston Globe praised his collaborative accompaniments as "supportive, elegant, and apparently effortless." He has given recitals at Carnegie Hall and Alice Tully Hall in New York. He also has played at the Gardner Museum, Jordan Hall, Symphony Hall, and virtually every concert venue in Boston and throughout New England, including the Newport Music Festival. He has played around the country in places such as the San Diego Art Museum and the San Francisco War Memorial Auditorium. Mr. Merrill also has participated in community concerts around the U.S.  Additionally, he has appeared on CBS "Sunday Morning" with Charles Kuralt. Abroad he has played in concert throughout Europe and in China as a guest of the government. His recordings include the CDs "A Room With a View" songs of Noel Coward on Newport Classics and "Guinevere and Other Ballads" of Sir Arthur Sullivan on Pearl Records with baritone Richard Conrad. Mr. Merrill's extensive professional affiliations include the Boston Academy of Music, the Boston Lyric Opera, the Boston Symphony Orchestra, the Goldovsky Opera Institute, the New England Conservatory Opera Department, and the Opera Company of Boston.

Karen Salides is our Director of Youth and Children's Ministries
Welcome Karen Salides, Director of Youth and Children's Ministries!
Karen is thrilled to join the Union Church in Waban as the Director of Youth and Children's Ministries.  She developed a passion for youth and children's ministries as an active volunteer in the Sunday school and youth programs at Mill Plain Union Church in Waterbury, CT.  Professionally, Karen has spent the last 6 years at the Center for Human Development as a Case Manager and Support Specialist for adults who have been homeless or are at risk of becoming homeless.  Prior to that, she spent 3 years as a Child Advocate for Safe Haven of Greater Waterbury and 4 years as a Youth Counselor for the Salvation Army Youth Emergency Shelter.
Karen loves children and young people for their enthusiasm, their endless curiosity, and their openness to new ideas.  She believes that church should be a place that nurtures and supports young people in their journey of coming to know God and in making sense of their lives.  She sees Christian education as an important part of their growth and development and looks forward to doing what she can to continue to make UCW an enriching place as she too continues to grow in her own faith.
Karen and her 11 year old son, Tyrelle, are moving from CT to MA area where they look forward to being closer to family.  Karen and Tyrelle also look forward to becoming part of the UCW Community.  In planning her move to Massachusetts, finding a church was a priority for Karen.  Praying on this was very important throughout her process.  She was looking for a place of worship where she and Tyrelle would feel welcomed and comfortable continuing on their faith journey.  They had a great first impression of the church just by visiting the website.  After attending the Children's Sunday service, they were overwhelmed with the fellowship and sense of a caring community.  Karen believes Union Church in Waban is where God wants her to be.
Aidan Cunningham is our Office Manager
Originally from Dublin, Ireland, Aidan Cunningham lives in Sharon MA with his wife Kathleen Guilday and children Owen and Clare. Aidan is also employed as the bookkeeper for the Unitarian Church of Sharon and his prior work experience includes twenty years in sales order administration in the semiconductor industry. In his spare time Aidan enjoys cooking, gardening and bird watching.
Lisa Barry is our Child Care Provider
Lisa Barry welcomes our youngest children into the nursery every Sunday morning providing a loving and safe envirnomnet to play and learn while parents worship. Lisa has been working in the infant/todder room at UCW since 2009 and is also a full-time Nanny for families in the area.  Lisa was raised in Newton and lives continues to live in Newton with her two college aged sons.  Parents often express appreciation for how Lisa's loving and consistent presence  has made it so much easier for their children to transition to being in the nursery.  Lisa's  has worked professionally with kids since 2007 and enjoys them a great deal.
Amy Clark Feldman is our Ministerial Intern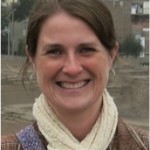 Amy Clark Feldman is a second-year Master of Divinity student at Andover Newton Theological School, pursuing ordination with the American Baptist Churches.   Since 2010, Amy has served on the staff of First Baptist Church in Newton in roles that have allowed her to explore her call to ministry.  She has a deep love for discovering the ways God is working through communities of faith, and has a growing interest in interfaith/inter-religious dialogue.
Before turning her focus to ministry, Amy worked for a number of years as a bilingual communications consultant to corporations and non-profits (NGOs) in the US and Latin America, and graduated with her MBA from the University of Miami (FL) in International Business and Public Administration in 2003.    Prior to that, Amy worked as a program manager for the Harvard Graduate School of Education's Institutes for Higher Education and International Education, as well as with the International Offices of the American Red Cross.
Amy lives in Natick with her two young sons, and her husband Greg.  She is a runner who loves to spend as much time as possible in the great outdoors.