Rev. Stacy Swain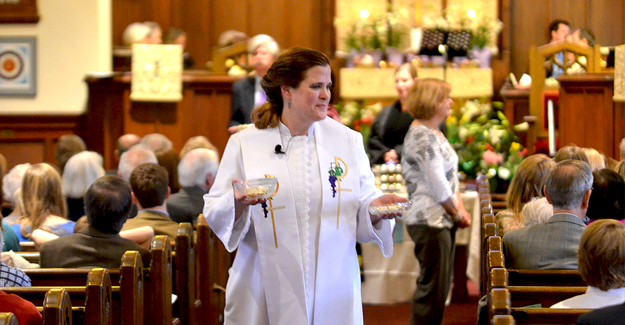 Stacy comes to ordained ministry in the United Church of Christ after more than twenty years experience in the field of public health with poor and disadvantaged populations. Stacy envisions church as an inspiring community of people who are committed to following the Way of Jesus — growing in love of God and of each other while loving kindness, doing justice and walking humbly with God.
Stacy was born and spent most of her childhood and youth in Minnesota. She received a B.A in English literature from Carleton College in Northfield MN, a Master of Public Health with concentration in Epidemiology from the School of Public Health at Boston University and a Master's of Divinity from Andover Newton Theological School where she graduated with distinction and received the award for excellence in biblical studies.
Stacy and her husband Mark have two adult children and two dogs. They in Roslindale, Massachusetts. Stacy returned from Sabbatical in the fall of 2016 when she and Mark walked El Camino de Santiago de Compostela, a 800 kilometer pilgrimage across northern Spain.
Rev. Amy Clark Feldman is Associate Pastor for Youth and Families
Amy is an ordained minister with the American Baptist Churches, and a graduate of Andover Newton Theological School. Amy previously served as the Union Church's ministerial intern, and, before that, as the Director for Community Life and Communication at the First Baptist Church in Newton, MA. She has a deep love for discovering the ways God is working in and through intergenerational communities of faith, and for nurturing the spiritual lives of children and youth.
Before turning her focus to ministry, Amy worked for a number of years as a bilingual consultant to corporations and nonprofits in the US and Latin America, and graduated with her MBA from the University of Miami (FL) in International Business and Public Administration. Prior to that, Amy worked as a program manager for the Harvard Graduate School of Education's Institutes for Higher Education and International Education, as well as with the International Offices of the American Red Cross.
Amy lives in Natick with her two sons and her husband Greg. She is a runner who loves to spend as much time as possible in the great outdoors.

William Merrill is our Music Director & Organist

Bill is one of Boston's most highly respected collaborative pianist/coaches. He has worked with luminaries such as Helen Donath, Roberta Peters, Erie Mills, Eleanor Steber, and Deborah Voigt, as well as many other eminent singers.The Boston Globe praised his collaborative accompaniments as "supportive, elegant, and apparently effortless." He has given recitals at Carnegie Hall and Alice Tully Hall in New York. He also has played at the Gardner Museum, Jordan Hall, Symphony Hall, and virtually every concert venue in Boston and throughout New England, including the Newport Music Festival. He has played around the country in places such as the San Diego Art Museum and the San Francisco War Memorial Auditorium. Mr. Merrill also has participated in community concerts around the U.S. Additionally, he has appeared on CBS "Sunday Morning" with Charles Kuralt. Abroad he has played in concert throughout Europe and in China as a guest of the government. His recordings include the CDs "A Room With a View" songs of Noel Coward on Newport Classics and "Guinevere and Other Ballads" of Sir Arthur Sullivan on Pearl Records with baritone Richard Conrad. Mr. Merrill's extensive professional affiliations include the Boston Academy of Music, the Boston Lyric Opera, the Boston Symphony Orchestra, the Goldovsky Opera Institute, the New England Conservatory Opera Department, and the Opera Company of Boston.
Assistant Music Minister
Position currently open (as of 7/1/2017). Check back soon for a link to a new job posting.
Lisa Barry is our Child Care Provider
Lisa Barry welcomes our youngest children into the nursery every Sunday morning providing a loving and safe environment to play and learn while parents worship. Lisa has been working in the infant/toddler room at UCW since 2009 and is also a full-time Nanny for families in the area. Lisa was raised in Newton and lives continues to live in Newton with her two college aged sons. Parents often express appreciation for how Lisa's loving and consistent presence has made it so much easier for their children to transition to being in the nursery. Lisa's has worked professionally with kids since 2007 and enjoys them a great deal.
Aidan Cunningham is our Office Manager
Aidan works part time in the church office and is at the hub of our communications, finances and daily operations of the church. Aidan's prior work experience includes twenty years in sales order administration in the semiconductor industry.