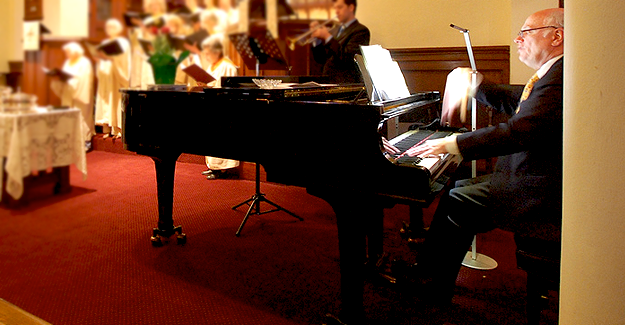 William Merrill is Our Music Director & Organist
Bill is one of Boston's most highly respected collaborative pianist/coaches. He has worked with luminaries such as Helen Donath, Roberta Peters, Erie Mills, Eleanor Steber, and Deborah Voigt, as well as many other eminent singers.The Boston Globe praised his collaborative accompaniments as "supportive, elegant, and apparently effortless." He has given recitals at Carnegie Hall and Alice Tully Hall in New York. He also has played at the Gardner Museum, Jordan Hall, Symphony Hall, and virtually every concert venue in Boston and throughout New England, including the Newport Music Festival. He has played around the country in places such as the San Diego Art Museum and the San Francisco War Memorial Auditorium. Mr. Merrill also has participated in community concerts around the U.S.  Additionally, he has appeared on CBS "Sunday Morning" with Charles Kuralt. Abroad he has played in concert throughout Europe and in China as a guest of the government. His recordings include the CDs "A Room With a View" songs of Noel Coward on Newport Classics and "Guinevere and Other Ballads" of Sir Arthur Sullivan on Pearl Records with baritone Richard Conrad. Mr. Merrill's extensive professional affiliations include the Boston Academy of Music, the Boston Lyric Opera, the Boston Symphony Orchestra, the Goldovsky Opera Institute, the New England Conservatory Opera Department, and the Opera Company of Boston.

Kathy Malone is our Director of Youth and Children's Ministries
Before coming to The Union Church, Kathy served as the chair of the Christian Education Committee at Church of the Covenant in Boston and was responsible for the smooth running and oversight of the educational programming for the church's children and youth. One of the things Kathy loves about the Union Church is our child cherishing focus and she is always looking for ways to integrate, more and more fully, the children and youth into the worship, mission and community life of the church. She is also particularly interested in exploring ways to nurture the spiritual life of children, youth and families in the home. Kathy works part time between August 15th and June 30th.
Aidan Cunningham is our Office Manager
Originally from Dublin, Ireland, Aidan Cunningham lives in Sharon MA with his wife Kathleen Guilday and children Owen and Clare. Aidan is also employed as the bookkeeper for the Unitarian Church of Sharon and his prior work experience includes twenty years in sales order administration in the semiconductor industry. In his spare time Aidan enjoys cooking, gardening and bird watching.