Adult Education in Lent
Lent is a time to reground ourselves in our original blessing of being beloved children of God.  It is a time to let down the burdens that we have accumulated throughout the year that may be keeping us from loving God with all our hearts, minds, soul and strength and loving our neighbors as ourselves.  You are invited and encouraged to partake of the following adult education offerings to enrich your Lenten Journey:
Sunday March 9th:  At 11:30 we will gather on the stage to engage in conversation with Carmen Rodriguez  and Principal Tamara Blake from the Russell Elementary School in Dorchester.  UCW has partnered with the Russell School to contribute to the education and well being of Russell School children and their families.
Deepening the Conversation about things that Matter:  During March, we invite you into conversations that will open space to go deeper in exploring two dimensions of our life together.  The first is an opportunity to reflect upon and engage with our experiences of mission/outreach and the second to reflect upon and engage in conversation about what helps enables healthy coping during difficult times.  For more information, please see below.
Sunday, March 16th after worship, 

What is the change does mission bring? a time to reflect on where we have been and to share who we are becoming.

This conversation  facilitated by Brita Gill-Austern and Stacy Swain will give time to reflect on our various experiences of engaging in mission/outreach activity and to wonder together about how these experiences are helping us to grow in knowledge of ourselves and our growth as people of faith.  Whether you have traveled with the church overseas to Zambia and Nicaragua or participated more locally in mission/outreach opportunities at the Russell School, the Waban Health and Rehabilitation Center, the food pantry, or Common Cathedral (just to name a few of the mission/outreach opportunities we have had) we hope you will join us.
Tuesday, March 18th.  At 7:30 -9:00 p.m.

When Things Fall Apart:  Coping in Hard and Stressful Times,

An Evening of Conversation with Brita Gill-Austern and Stacy Swain

. 

This evening will lead us into a conversation about what contributes to healthy coping that leads to resilience when the going gets rough.   Sometimes life is just plain hard, families can be in great turmoil, loss can rock our world and leave us feeling empty, economic worries can push us over the edge, being caretakers of young and old and those who need extra care can be among the most stressful of life's tasks, and dealing with increasing limitations that come with age or disability can increase stress to a breaking point.   The challenge in such times as these and other really hard times is to be able to know what contributes to positive and constructive coping and what leads us in the opposite direction.   We will see how the use of spiritual and religious resources enhances deeply our ability to cope and when religious coping can compound the stress.  We hope that people will leave the evening having begun to identify resources within themselves, the Christian faith, its practices and our faith

community that will foster resilience for them in the hardest of times.
Tuesday March, 25th. This month, book group is reading Barbara Kingsolver's book "Animal, Vegetable, Miracle" as part of the mission/outreach Lenten theme of hunger and food justice.  Please consider reading this provocative book and joining with your fellow UCWers in conversation.
Wednesday, March 26th.  The Mission/Outreach committee is screening the 2012 film "A Place at the Table." This documentary leads us into the hard truth that "50 million people in the U.S. – one in four children – don't know where their next meal is coming from , despite our having the means to provide nutritious, affordable food for all Americans.  Directors Kristi Jacobson and Lori Silverbush examine this issue through the lens of three people who are struggling with food insecurity."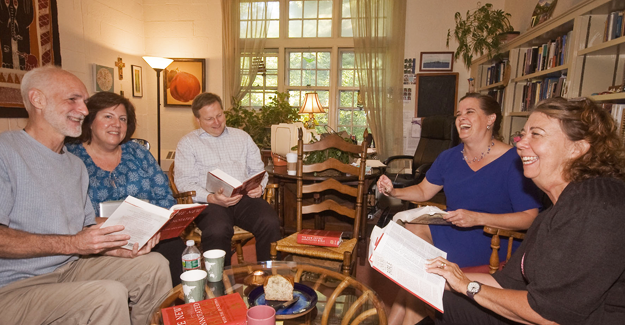 Sunday Morning Bible Study
During the church year (September to June) we gather every Sunday from 8 – 9:00 am  to study scripture and reflect on how God's word informs our living today.   While we will certainly learn a lot about how people of long ago understood God to be moving in their lives,  we will also create a safe and sacred space in which we as people of faith in this time and place, we can hear what it is God may be calling us to in our own life. We are holding Bible study at this time so as to not conflict with choir rehearsal at 9:00 a.m. Please consider making a morning of it – Bible Study, Choir and then worship!  We are currently reading the Gospel according to John.  Please join  us!  Please see Stacy with your questions/comments.

Living Water Prayer Service
On Wednesday mornings from 7:30 – 8:15 am we gather in the small chapel off the sanctuary for prayer.  This time of prayer called "Living Water" is based on the passage in John's Gospel where Jesus encounters the Samaritan women at the well (John 4:14).  It gives us an opportunity to drink in the stillness of the peace and presence of God so that we will be filled and will not thirst as we go into the busyness of our weeks.  We begin with 20 minutes of centering/meditative silence. Afterwards we engage lectio divina,  listening with our whole hearts to a passage from scripture and sharing the invitation we may have heard for ourselves. In closing we light candles of prayers for celebrations and/or concerns we may have.
Lunch Bunch
The third Tuesday of very month, the Lunch Bunch gathers from 12:00 – 1:30 for a time of conversation and fellowship. Most months we meet at church in the reception room but several times a year we will head out to explore some place new, like our excursion to the Mary Wakefield Estate in Milton pictured here.   Bring a brown bag lunch  and enjoy the dessert that is provided.
Our next time together will be March 18th,  12:00 – 1:30.
Book Group
The book group meets on the last Tuesday of the month at 7:30pm in the parlor for conversation and sharing.  Our next meeting will be on March 25th and we will be discussing "Animal, Vegetable, Miracle" by Barbara Kingsolver.  Please join us. 
Java Gents
Java Gents is an informal monthly breakfast hour for the men of the UCW congregation. It provides friendly fellowship and mutual support to the men. Java gents meet the third Friday of each month in the church reception room at 7am. Buz Bedford cooks up a full, hot breakfast. Jay O'Beirne hosts the lively discussion of timely topics, and personal goings on among the men. The next meeting of Java Gents is Friday, March 21st.
Wellspring Women's Group
This group meets the third Wednesday of the month from 6:30pm – 8pm in the Reception Room.  We begin with a simple meal of soup and bread, then enter a time of reflection, sharing and prayer. Our next time together is Wednesday, March 19th where after our time of sharing and meal we will engage the practice of walking the labyrinth which has been laid out in Memorial Chapel.
"Conversations along the Way"
On the first Wednesday of every month, grab your coffee and curiosity and enter the conversation that was begun over two thousand years ago on that road to Emmaus (Luke 21:13). We will join those two disciples in frank and honest conversation as we engage our questions, our doubts and skepticism about what exactly this Christian faith is all about. We will talk candidly about how and if the ancient story of scripture has relevance for our living today and how we are to understand what it means to walk in the Way of Jesus in this time and place. The agenda for this time is not to try to get each other to believe in a certain way or to try to rid us of our questions. Quite the opposite is true! The agenda for this time which is consistent with the spirit of the Union Church community is to simply welcome all wherever we may be on our spiritual journeys and to engage our questions honestly and openly, without judgment and with love.  Drop in to Starbucks in Waban Square  between 9 and 10:00 a.m. Stacy will be there enjoying a cup and ready to engage our continued conversations.
Meditation Group
Whether you have had a meditation practice for years or are only just beginning, you are welcome to partake of this time of silence together.  Meditation group meets every other week in Pastor Stacy's study at 10:00 am.  Our March dates are Saturday March 1st and Saturday March 15th.
Contours of Belief in the Poetry of Emily Dickinson and Robert Frost
This will be a two session series offered on Tuesday, May 13th and Tuesday May 20th.  Stay tuned for more details.
No

Comments
---
Comments in this page are closed.