Walking in the Way of Love is hard. Especially when there is so much fear, anxiety, hate and violence spinning all around us these days. Here at UCW, we are companions on a journey, fellow seekers, teaching, learning, supporting, challenging and guiding each other in non judgmental community of care and compassion. We seek to grow in love of God, self and neighbor and strengthen our call to discipleship so that we may be beacons of hope, sources of comfort, fonts of inspiration, and ambassadors of love, in this beautiful but wounded world.
As such, in addition to weekly worship, there are many small groups that provide an opportunity to strengthen relationship and to deepen and explore faith. These opportunities are detailed below. Pastor Stacy always welcomes new ideas and suggestions, so if there is something you would like to engage or explore that you do not see below, do not hesitate to reach out to her.
---
Sunday Morning Bible Discussion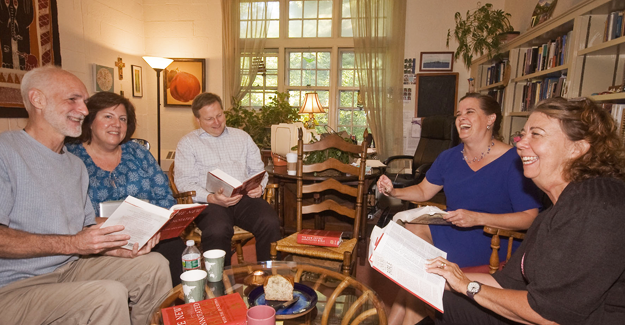 We gather every Sunday from 8 – 9:00 am to study scripture and reflect on how God's word informs our living today. Instead of following a curriculum, we simply choose a book of the Bible and read it out loud together, pausing as we do to reflect on what the text is saying and how it may impact our lives today. No previous Bible study or Biblical literacy is needed. Come every Sunday or come when you can. All are welcome. We are holding Bible study at this time so as to not conflict with choir rehearsal at 9:00 a.m. Please consider making a morning of it – Bible Study, Choir and then Worship!
---
Weekday Seekers Group
Do you have questions? Are there things that you have been taught or heard about the Christian faith that don't make a lot of sense to you or that you may be struggling with? Would you like to try on practices that could help open you to an experience of the Holy in the midst of your life? Beginning in October, this seekers group will walk together as we learn, re-relearn and practice together in a judgment free zone of love, acceptance, support and challenge. If you are interested or would like to learn more, please speak with Pastor Stacy (
[email protected]
)
---
Living Water Prayer Service
On Monday mornings starting on Monday, September 11th from 9:00 – 10:00 am we gather in the small chapel off the sanctuary for prayer. This time of prayer called "Living Water" is based on the passage in John's Gospel where Jesus encounters the Samaritan women at the well (John 4:14). It gives us an opportunity to drink in the stillness of the peace and presence of God so that we will be filled and will not thirst as we go into the busyness of our weeks. We begin with 20 minutes of centering/meditative silence afterwards we light candles of prayers for celebrations and/or concerns we may have.
---
Lunch Bunch


The third Wednesday of every month, the Lunch Bunch gathers from 12:00 – 1:30 for a time of conversation and fellowship. Most months we meet at church in the reception room but several times a year we will head out to explore some place new, like our excursion to the Mary Wakefield Estate in Milton pictured here. Lunch is provided. If you are interested in attending please be in touch with Pastor Stacy at [email protected] or call 617-965-3893
---
Wellspring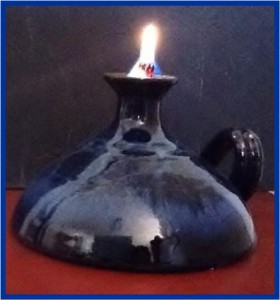 Wellspring is our women's group. We gather on the third Wednesday of the month at 6:30 for a simple meal before moving into a time of sharing, discussion and support. Beginning in September, our five month module will take us into the theme of "Deepening our Friendship."
---
Book Group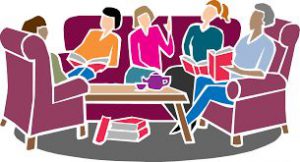 BOOK GROUP meets on the last Tuesday of the month. Our first gathering of the 2017/2018 program year will be on October 30. Stay tuned for the title of our October book and our theme for the year. .
---
Java Gents


Java Gents is an informal monthly breakfast hour for the men of the UCW congregation. It provides friendly fellowship and mutual support to the men.. Buz Bedford cooks up a full, hot breakfast. Jay O'Beirne hosts the lively discussion of timely topics, and personal goings on among the men.
While Java gents usually meets the third Friday of each month in the church reception room at 7am in February the men will gather on Thursday evening the 16th at 6:30 for a hearty BBQ
---
All Church Retreat
Coming away together to share in fun, learning and the beauty of God's good creation is now a regular part of our life at UCW. Our next all church retreat is scheduled for October 20-22, 2017 at Rolling Ridge Conference and Retreat Center in North Andover, MA. Our theme for the retreat is "Growing Together for Good." Deadline for registration is September 17.
---
Waban Health Worship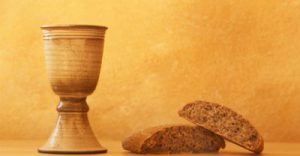 On the third Thursday of the month UCW and the Waban Health and Rehabilitation Center (located in Waban Square behind the Waban Market) hold a shared service in the activity room at Waban Health at 10:30 a.m. We sing, reflect on scripture, pray and partake of communion together. This is a Spirit filled time of loving fellowship and praise filled worship. Everyone is welcome. Please see Pastor Stacy for details.
---