Sunday Morning Bible Study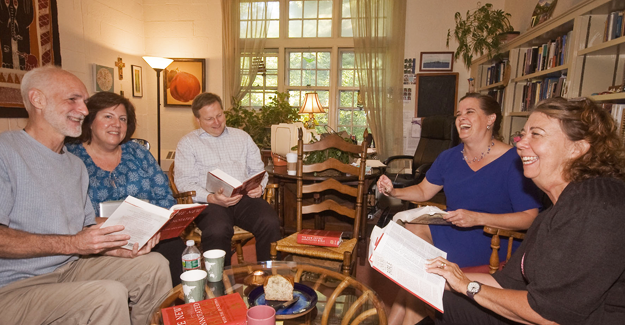 During the church year (September to June) we gather every Sunday from 8 – 9:00 am to study scripture and reflect on how God's word informs our living today. While we will certainly learn a lot about how people of long ago understood God to be moving in their lives, we will also create a safe and sacred space in which we as people of faith in this time and place, we can hear what it is God may be calling us to in our own life. We are holding Bible study at this time so as to not conflict with choir rehearsal at 9:00 a.m. Please consider making a morning of it – Bible Study, Choir and then worship! We are currently reading the the Letter to the Hebrews. Please join us!
Living Water Prayer Service
On Wednesday mornings from 7:30 – 8:15 am we gather in the small chapel off the sanctuary for prayer. This time of prayer called "Living Water" is based on the passage in John's Gospel where Jesus encounters the Samaritan women at the well (John 4:14). It gives us an opportunity to drink in the stillness of the peace and presence of God so that we will be filled and will not thirst as we go into the busyness of our weeks. We begin with 20 minutes of centering/meditative silence. Afterwards we engage lectio divina, listening with our whole hearts to a passage from scripture and sharing the invitation we may have heard for ourselves. In closing we light candles of prayers for celebrations and/or concerns we may have.
Lunch Bunch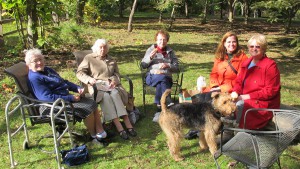 The third Tuesday of very month, the Lunch Bunch gathers from 12:00 – 1:30 for a time of conversation and fellowship. Most months we meet at church in the reception room but several times a year we will head out to explore some place new, like our excursion to the Mary Wakefield Estate in Milton pictured here. Bring a brown bag lunch and enjoy the dessert that is provided.
Well Spring
Well Spring is our women's group.  We usually meet on the third Wednesday of the month from 6:30 – 8:00 p.m.  Our time begins with a simple meal and catching up with one another about our lives before moving into a deeper conversation that is topically focused.  This past year we focused on the theme of Pilgrimage.  Our final gathering for the 2015 -2016 church program year will be on Wednesday, May 25th.
Book Group
Book Group meets on the last Tuesday of the month in the reception room, 7 – 8:30 PM.
The book to be discussed will be posted monthly. This year (2015-2016) we will explore a variety of choices among novels. poetry, short stories and drama. For more information, please get in touch with Priscilla Kelso ([email protected]) or Tom Vawter ([email protected]).
Java Gents
Java Gents is an informal monthly breakfast hour for the men of the UCW congregation. It provides friendly fellowship and mutual support to the men. Java gents meet the third Friday of each month in the church reception room at 7am. Buz Bedford cooks up a full, hot breakfast. Jay O'Beirne hosts the lively discussion of timely topics, and personal goings on among the men.
 All Church Retreat
Coming away together to share in fun, learning and the beauty of God's good creation is now a regular part of our life at UCW.  Stay tuned for the dates of our next all church retreat!
Waban Health Worship
On the third Wednesday of the month UCW and the Waban Health and Rehabilitation Center (located in Waban Square behind the Waban Market) hold a shared service in the activity room at Waban Health.  We sing, reflect on scripture, pray and partake of communion together.  This is a Spirit filled time of loving fellowship and praise filled worship.  If you are interested in joining in this midweek service please see Pastor Stacy ([email protected]).