Adult Education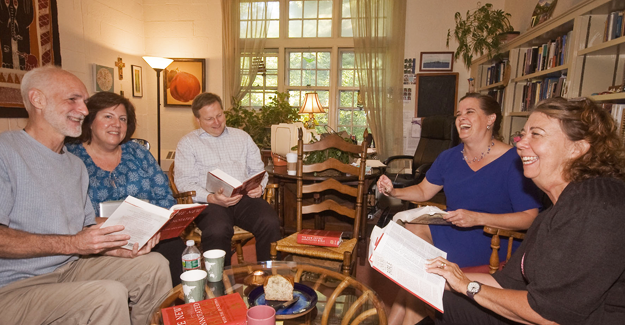 Sunday Morning Bible Study
During the church year (September to June) we gather every Sunday from 8 – 9:00 am  to study scripture and reflect on how God's word informs our living today.   While we will certainly learn a lot about how people of long ago understood God to be moving in their lives,  we will also create a safe and sacred space in which we as people of faith in this time and place, we can hear what it is God may be calling us to in our own life. We are holding Bible study at this time so as to not conflict with choir rehearsal at 9:00 a.m. Please consider making a morning of it – Bible Study, Choir and then worship!  We are currently reading the Gospel according to John.  Please join  us!  Please see Stacy with your questions/comments.

Living Water Prayer Service
On Wednesday mornings from 7:30 – 8:15 am we gather in the small chapel off the sanctuary for prayer.  This time of prayer called "Living Water" is based on the passage in John's Gospel where Jesus encounters the Samaritan women at the well (John 4:14).  It gives us an opportunity to drink in the stillness of the peace and presence of God so that we will be filled and will not thirst as we go into the busyness of our weeks.  We begin with 20 minutes of centering/meditative silence. Afterwards we engage lectio divina,  listening with our whole hearts to a passage from scripture and sharing the invitation we may have heard for ourselves. In closing we light candles of prayers for celebrations and/or concerns we may have.
Lunch Bunch
The third Tuesday of very month, the Lunch Bunch gathers from 12:00 – 1:30 for a time of conversation and fellowship. Most months we meet at church in the reception room but several times a year we will head out to explore some place new, like our excursion to the Mary Wakefield Estate in Milton pictured here.   Bring a brown bag lunch  and enjoy the dessert that is provided.
Our next time together will be April 22nd,  12:00 – 1:30.
Book Group
The book group meets on the last Tuesday of the month from  7:30 – 9:00 p.m.  The April book for book group is "The Elegance of the Hedgehog"  by Muriel Barbary.    Our next meeting will be, April 29th.  Please join us.  All are welcome. 
Java Gents
Java Gents is an informal monthly breakfast hour for the men of the UCW congregation. It provides friendly fellowship and mutual support to the men. Java gents meet the third Friday of each month in the church reception room at 7am. Buz Bedford cooks up a full, hot breakfast. Jay O'Beirne hosts the lively discussion of timely topics, and personal goings on among the men.
"Conversations along the Way"
On the first Wednesday of every month, grab your coffee and curiosity and enter the conversation that was begun over two thousand years ago on that road to Emmaus (Luke 21:13). We will join those two disciples in frank and honest conversation as we engage our questions, our doubts and skepticism about what exactly this Christian faith is all about. We will talk candidly about how and if the ancient story of scripture has relevance for our living today and how we are to understand what it means to walk in the Way of Jesus in this time and place. The agenda for this time is not to try to get each other to believe in a certain way or to try to rid us of our questions. Quite the opposite is true! The agenda for this time which is consistent with the spirit of the Union Church community is to simply welcome all wherever we may be on our spiritual journeys and to engage our questions honestly and openly, without judgment and with love.  Drop in to Starbucks in Waban Square  between 9 and 10:00 a.m. Stacy will be there enjoying a cup and ready to engage our continued conversations.
Contours of Belief in the Poetry of Emily Dickinson and Robert Frost
This will be a two session series offered on Tuesday, May 13th and Tuesday May 20th.  Stay tuned for more details.