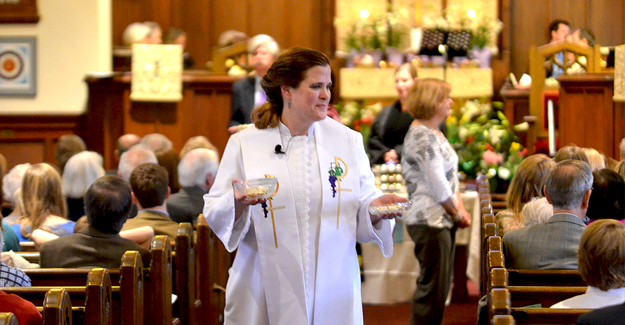 Rev Stacy Swain
Stacy comes to ordained ministry in the United Church of Christ after more than twenty years experience in the field of public health with poor and disadvantaged populations. Stacy envisions church as an inspiring community of people who are committed to following the Way of Jesus — growing in love of God and of each other while loving kindness, doing justice and walking humbly with God.
Stacy was born and spent most of her childhood and youth in Minnesota. She received a B.A in English literature from Carleton College in Northfield MN, a Master of Public Health with concentration in Epidemiology from the School of Public Health at Boston University and a Master's of Divinity from Andover Newton Theological School where she graduated with distinction and received the award for excellence in biblical studies.
Stacy lives with her husband Mark, their two adolescent children and two dogs in Roslindale, Massachusetts. She is a great fan of the outdoors, loves mint chocolate chip ice cream and at some point in her life really would like to try a triathlon.
Sharing a word
Over the Christmas school vacation my family and I traveled to northern Wisconsin to spend some time with my mother and step-father.  They live on what was a dairy farm — vast fields framed by pine and birch forests.  It is beautiful and quiet, especially in the sub-zero silence of winter.
I was having a cup of tea with my mother one afternoon when I noticed a strange looking clock on her bookcase.  Instead of having two hands it had one.  And instead of having the hours of the day encircling the face it had the days of the week.  I asked my mother what in the world that clock was for and she said "To keep track of what day it is of course."
In the peace of that place, time moves slowly and is expansive.  One day fades into another without much fanfare and without demanding too much of those who inhabit it.  If you do feel a need to keep track of the days, I guess you need a clock to help you do so.
Can you imagine needing such a clock?  Can you imagine what it is to lose track of time?
Our lives, I fear, are so delineated by the relentless march and press of time that we are not only acutely aware of what day it is but also by what hour or even what minute it is!  Fearing that there will never enough time to do all we want and need to do, we tend to inhabit the moment that is coming more than the moment we are in as we plan, and scurry and worry through our days.
There is, however, an intriguing conversation emerging in many faith communities.  This conversation was highlighted in the December 2012 issue of Sojourners Magazine where author Christopher Smith observed that many people of faith have been challenged by Slow Food movement begun in 1986 by a group of Italian activities who launched a protest against the opening of a McDonald's near the famous Spanish steps in Rome, "to consider the ways in which our faith has begun to move too fast as we make sacrifices to the gods of efficiency."
He goes on to write "Slow Church places value on local congregations and recognizes that our Western preference for individualized faith, over and against faith communities, is one of the shortcuts that has been taken as the Christian faith has accelerated over the course of the modern era.  We prefer to act as autonomous individuals or, on the other extreme, to work for justice on the largest global scale possible.  Of course, we should desire God's reconciliation in all parts of creation, but if we cannot love and be reconciled with brothers and sisters that God has given us in our local congregation, how can we expect to love people in other places around the globe in deep and sustainable ways?  The local church is the crucible in which God forges us slowly – and often painfully – in the shalom of reconciliation intended for all creation."[1]
I find it intriguing to consider our life together in light of this emerging slow church conversation.  Are we called to be an "island of patience in a world of speed" to borrow a phrase from philosopher Paul Virilio?  Can we be a place where our shoulders drop and our breath evens out just by walking in the door?  Where there is enough time and space to listen deeply to each other and to God? Where there is enough time and space to be in no other place than where we are?
This Lent, I invite you to partake of an opportunity to enjoy a bit of slow church.  Over the course of six week there will be many opportunities to sit down for dinner with a handful of other in the church.  These small group, potluck dinners will be hosted by various members of our congregation and I particularly invite you to sign up for a dinner with people who you do not already know well.  Around the table, sharing good food and conversation, we will take the time slow down and simply enjoy the interconnected not autonomous life that God intends for creation.[2]
We may never get to the place in our life together where we need a clock to help keep track of the days for us, but it is my hope that in our life together we can experience a different sense of time.  It is my hope that we can step out of the rush and press of our days and into the peace and expansiveness of God's time.  It is my hope that we will come to ever more deeply value our life together — deepening our relationship and growing in our love of neighbor and of God.  For I truly believe that doing so will not only make a world of difference in how we experience the God given life that is ours but that also by doing so, we will more fully be able see and affect the healing, justice bringing, creation restoring changes that our world so desperately needs.