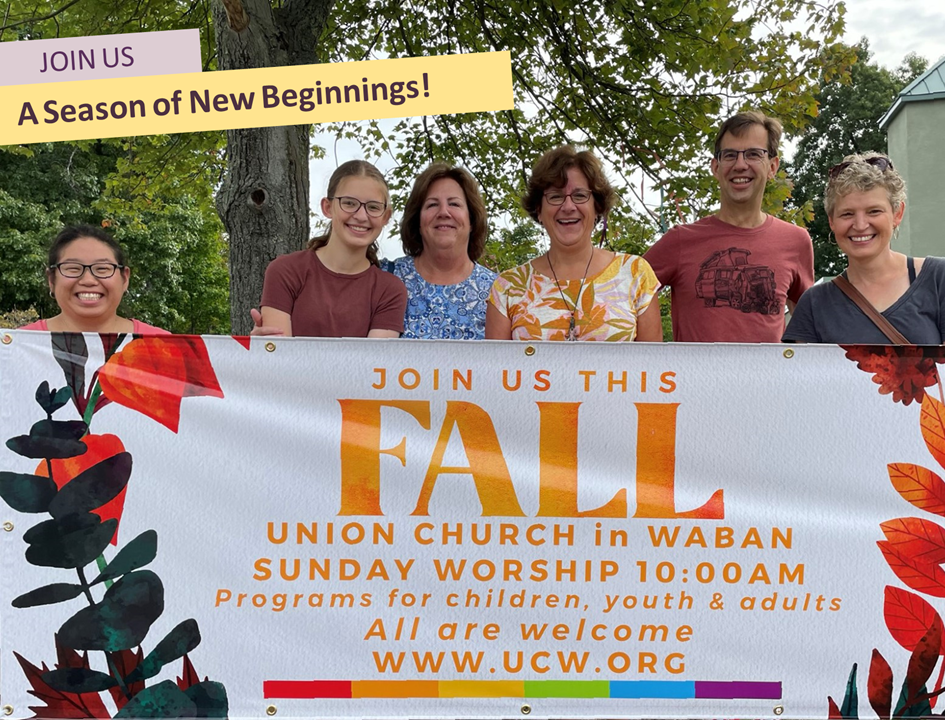 Sunday, October 1 at 10:00 a.m.
Fall Worship (In Person and on Zoom!)
World Communion Sunday
This weekend we celebrate World Communion Sunday with churches across the globe, remembering that, no matter what else may divide us, we are One Body of Christ, knit together by the love of God. Join us for this special service and celebration of Communion.


Children are invited to a special Sunday School with breads from around the world that we'll share with the wider community during Communion.
UCW All-Ages Apple-Picking!
This Sunday, October 1, after worship

Join us for a fun afternoon of apple-picking, corn maze, cider donuts and more! We'll leave as a group after worship, and then head to Lookout Farm in South Natick.
Please let Pastor Amy know ([email protected]) if you can come. We recommend pre-paying ahead of time to avoid lines (and receive the online discount).
Pre-pay the entrance fee directly through the Lookout Farm link below

or

Contact Pastor Amy ([email protected]). UCW is glad to contribute to all or part of the cost of tickets if it would make the trip more accessible for you or your family.

Just let Amy know by Friday (today) at 5pm, and she can pre-pay and have your tickets ready.
"As you have sent me into the world, so I have sent them into the world…I ask not only on behalf of these, but also on behalf of those who will believe in me through their word, that they may all be one."


The first Sunday in October is celebrated as World Communion Sunday all throughout the world. We celebrate the ties that bind us to one another, as Christians, even in the face of our many differences. When we do so, we live into the prayer Jesus offered for his disciples and for those of us who would learn from them, throughout the many generations: "that they may all be one."

We know a bit about that as a Union Church, don't we? Unity in Christ across denomination, belief, or background is one of our highest values; it is the foundation for the wide welcome this church has offered for nearly 120 years. There is no test of faith in order to be welcomed to the table in our church, this or any Sunday.


There is certainly difficulty in unity, as well. As someone whose call to ministry would not be affirmed in the majority of churches that join us in celebrating World Communion (as a woman who is married to a woman), I certainly struggle to offer Jesus' prayer for unity at times. And yet, I believe that the powerful goodness of God's grace and mercy found at the communion table is far greater than any division humans have managed to create. This deep knowledge of God's abiding love is part of the gift and witness we have to share.
As we taste God's goodness around the table this week, we will remember our Christian siblings throughout the world and throughout time, remember what connects us to one another, and pray, as Jesus did, that we may all be one.


All-Church Gatherings & Adult Formation
Bible Study with Pastor Megan
Thursdays at 12:00 p.m. on Zoom
Starting this Thursday, Oct. 5
Join Pastor Megan for a weekly, drop-in lunchtime Bible study on Zoom throughout October and November! We will discuss the history and context for the given passage each given week, and think together about how this sacred scripture speaks into our own lives and this historical moment.
We'll be studying the coming Sunday's scripture for worship, which means there is no supplemental reading and no issues with missing a week and returning. Whatever your comfort and familiarity with the Bible, you are welcome! All have wisdom to share, and all have new things to learn.
Zoom Link: HERE
Meeting ID: 863 1718 5274
Passcode: 386028
Dial in only: 1 309 205 3325
Meeting details will also be posted on our website at www.ucw.org.
"Quieres aprender español?"
Do you want to learn Spanish?
The Nicaragua committee is going to arrange weekly Spanish lessons.
Everyone and anyone is invited. We are in the process of determining the times.


Please let David Spertner (

[email protected]

) know if you are interested in this opportunity or if you want to learn more about the ministry of
Nicaragua at the Union Church and what we will be up to this year!
Intergenerational Community
Blessing of the Animals
Sunday, October 22, 1:00 p.m.
Bring your furry, scaly, feathery friends to this special outdoor service, as we bless the animals that live with us, and offer prayers for all creation. If your animal friend is more comfortable at home, bring a photo! Rain date, Sunday, Oct. 29.
Community Game Night (All-Ages!)
Saturday, October 28 - Save the Date
Be sure to join our awesome game night for dinner, fun, and a little friendly competition! Bring a friend and favorite game to share. We'll gather at the church.
UCW IS HIRING!
Seeking a Sunday Children's Ministry Associate
We are seeking a new Children's Ministry Associate/Teacher for our Sunday mornings. This is a fantastic opportunity for an adult who loves sharing God's love with children. If you know of someone who is grounded in Christian faith, inclusive of all, and has experience teaching/leading children, please share this opportunity and/or let Pastor Amy know.
Children, Youth and Families
Sunday School and Children's Ministry
Registration!!
We are very excited for a new year with our Children's Ministry and Sunday School! We'll be sharing new Bible stories, age-appropriate spiritual practices, and service opportunities with our kids of all ages this year, and hope you and yours will be part of it! Please fill out a registration form below for your children/youth so we can make this year a great experience for them.
Youth Group and Exploring Our Faith
First EOF Meeting - THIS SUNDAY

Youth group and Exploring Our Faith is starting this month! It will be great to gather this Sunday at the church for our first EOF meeting. All EOF students are invited, along with any HS juniors, seniors, or mentors that would like to come hang out.
November Overnight Retreat Registration
All High Schoolers are also invited to the Youth Retreat: Sabbath in a Modern Age at Silver Lake in CT on Nov. 10-12. Our registration is due this week, so please let Pastor Amy know if you can come if you haven't already. You can find out more about the retreat HERE, and see the full Youth Group calendar below.
Advocates for Racial Justice
Racism, housing segregation, and inequality contribute to health outcomes that drive health disparities across the life course. Community organizers at the Redress Movement and in a wide variety of community organizations across the country are having frank and difficult discussions about systemic racism and its health implications with residents as well as discussions about what can be done to redress these issues directly.
We have an opportunity to join an important virtual event
Lessons From The Field:
Redressing the Impacts of Housing Segregation on Health
START:
Thursday, October 5, 2023, 1:00 PM ET
A link to attend this virtual event will be emailed
upon RSVP to host contact above.

The conversations and approaches to redress are different in every community but we're learning from innovative community-led models about what works to engage people in efforts to redress the historical roots of racism and housing segregation, with one of the goals to improve community health outcomes. One way these efforts are leading the way is by creating a shared value for good health where everyone has the opportunity to thrive, regardless of who they are and where they live.
In this webinar, we'll talk with leaders who can share their perspectives on what this work looks like on the ground in communities across the country, as well as how we can amplify and measure the impacts about what's working.
Advocates for Racial Justice (ARJ)
If you would like to learn more about ARJ activities at the Union Church, please reach out to Nancy Zollers (

[email protected]

)
UCW Volunteer Opportunities
Sunday Reception Sign-Up
Thank you to Amy McMahon for hosting our reception this Sunday!


We need a volunteer for the following Sunday, October 8. Please consider signing up if available.


(Simple guidelines listed here also.)
Scripture Reader Sign-Up
If you are joining our Sunday worship, please consider signing up as a Scripture Reader for any of our upcoming services.


Scripture Reader Sign-up: HERE
Thank you!
2023-24 Communications Team
Are you interested in helping us spread the word about UCW?
We are looking for new members to help on various aspects of the Communications team. Please let Alison or me know if you are interested in joining us and if you have a preference of which area you would like to work on.

Outreach

- connecting with other organizations in the Newton area, sending out postcards/messaging about UCW.

Events

– local fairs etc.

PR

– writing articles, posting on social media, sharing info in the community, online news.

Signage

– Main sign, banners, events, signage inside church, Communication wall
We are looking forward to hearing from you!
Pastoral Care Connections
Please don't hesitate to reach out to Senior Pastor, Rev. Megan Berkowitz, or Associate Pastor for Youth & Families, Rev. Amy Clark Feldman for prayer or pastoral support.
and her phone is 617-965-3893

Friday is a day of Sabbath for Pastor Megan; Monday is Pastor Amy's day of Sabbath. With a pastoral emergency, please don't hesitate to reach out to either pastor.
We, the members of The Union Church in Waban, true to our founding principle of being an inclusive church, covenant together to nourish and to sustain in our common life and practice a fully welcoming and affirming church for all persons. Welcoming all persons who seek to join with us in a commitment to love God and our neighbors, affirming the inclusive love of Jesus, we are open to all, without regard to race, gender, sexual orientation, gender identity and expression, nationality, ability or economic circumstance. We invite all to full participation in our worship, membership, leadership and life of this church.