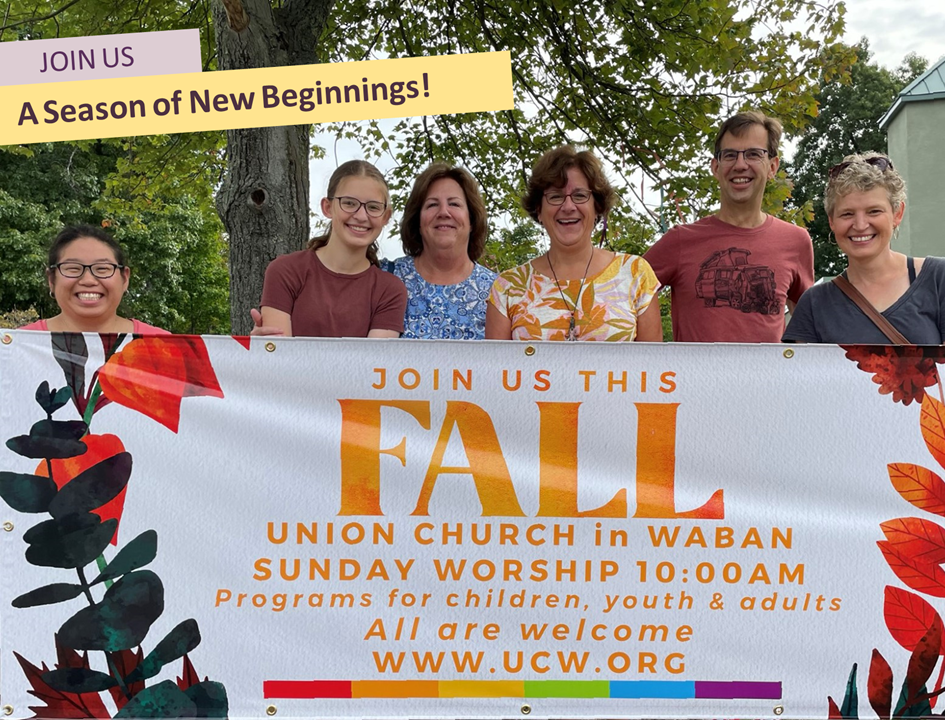 Fall Worship (In Person and on Zoom!)
Sunday, October 22 at 10:00 a.m.
This Sunday, our sacred texts have a thing or two to teach us about joy, which we know our world and our hearts are in deep need of. Worship will be followed with a Congregational meeting and lunch, and then Blessing of the Animals outside at 1.00 p.m. (details below).
Congregational Meeting: This Sunday after Worship
The Church Council would like to invite you to our Congregational meeting this coming Sunday after worship. This meeting is part of our new Governance model where we want to have more frequent meetings with the congregation.


We will have one formal piece of business from Nominating, and then engage on our Church Profile, as well as one of our priorities for the year: in-reach and out-reach. The agenda can be found HERE.


The meeting will also be on zoom, using the same Zoom link as the worship service. So please join us downstairs in the Vestry or online. For those in person, lunch will be provided!
Blessing of the Animals
This Sunday Afternoon
October 22, 1:00 p.m.
Bring your furry, scaly, feathery friends to this special outdoor service, as we bless the animals that live with us, and offer prayers for all creation. If your animal friend is more comfortable at home, bring a photo or animal toy!
Let the words of my mouth and the meditation of my heart
be acceptable to you,
O Lord, my rock and my redeemer.
Psalm 19:14
Many of you are familiar with this prayer, though perhaps not its source in the Psalms. I and many other pastors offer it at the start of each sermon, praying that what we share might not be for our own glory but pleasing to our God whom we serve, and useful for those gathered.


But the Psalms were written as corporate hymns, to be sung by the whole congregation. This prayer isn't a particular one for pastors or religious leaders. Set in the context of the entire Psalm, it's a prayer that whoever speaks it might reveal the glory of God in the world, just as the heavens and earth, night and day, all that is and all that will be all testify to God's power and goodness. God's word is more desirable than gold and sweeter than honey, the Psalmist writes, and then asks God to help them follow more closely.


I wonder what it might be like to offer this prayer at the start of the day each day, to set an intention to be humble in thought and speech. I wonder whether such a practice might make it easier to think before speaking, to be curious and compassionate, to speak and act in solidarity with others. I wonder whether it might help us to reveal God's goodness in a world that needs it.


Volunteer for Fun UCW Service Opportunities!!
The UCW Mission team is often looking for volunteers to contribute
to and enjoy our wide range of service activities and programs.
Community Thanksgiving Program
Coming up on November 18th is our Community Thanksgiving Program, where UCW volunteers provide take-home thanksgiving meals to families in partnership with the Newton Food Pantry. We are looking for 12 volunteers the morning of the 18th and 2 or 3 the evening of the 17th.


UCW Fall Cleanup
We will likely repeat our UCW fall cleanup program on the 18th , this is another great way to volunteer and have fun with UCW community members. Stay tuned for details on that.


More broadly, feel free to reach out any time to mission chairs Kevin Johnson (kjohnson@electionreformers) and Frank Laski (

[email protected]

) to find a good volunteer opportunity for you, or conversely to share information about volunteer opportunities.
All-Church Gatherings & Adult Formation
Bible Study with Pastor Megan
Thursdays at 12:00 p.m. on Zoom
Join Pastor Megan for a weekly, drop-in lunchtime Bible study on Zoom throughout October and November (except 10/19 and 11/23) ! We will discuss the history and context for the given passage each given week, and think together about how this sacred scripture speaks into our own lives and this historical moment.
We'll be studying the coming Sunday's scripture for worship, which means there is no supplemental reading and no issues with missing a week and returning. Whatever your comfort and familiarity with the Bible, you are welcome! All have wisdom to share, and all have new things to learn.
Zoom Link: HERE
Meeting ID: 863 1718 5274
Passcode: 386028
Dial in only: 1 309 205 3325
Meeting details are also posted on our website at www.ucw.org.
Wellspring Women's Ministry
Wednesday, October 25 at 6:30 p.m.(In-Person)
Wellspring will meet again on Wednesday evening October 25 at 6:30 p.m. Newcomers are welcome. If you are interested in learning more about Wellspring, please contact Amy McMahon at

[email protected]

.


Wellspring is our women's ministry at UCW. We come together to support each other as we journey together in these times.
Community Game Night (All-Ages!)
Saturday, October 28 at 5:30 p.m.
Be sure to join our awesome game night for dinner, fun, and a little friendly competition! Bring a friend and favorite game to share. We'll gather at the church from 5:30-8:30 p.m.
October Book Group
Tuesday, October 31 at 7:30p.m. (On Zoom)
Necessary Trouble: Growing Up at Midcentury
by Drew Gilpin Faust
Please join us again on October 31 at 7:30 p.m. for our next book group. Our book will be "Necessary Trouble: Growing Up at Midcentury" by Drew Gilpin Faust.
You will find a zoom link and sign-in information below. If you have any questions, please reach out to Alan Cody (

[email protected]

).
Zoom Link:
HERE
Meeting ID:
832 4667 4155
Passcode:
431699
Dial in:
1 646 558 86560
Great GBIO News
There is GREAT GBIO NEWS to announce this week! On Wednesday, 10/18, Gov. Maura Healey announced support for GBIO's Bond Bill Initiative, the Housing Justice Campaign's ask for a major increase in capital funds to sustain public housing facilities and work off the accumulated backlog of deferred capital projects. Though the amount of Gov. Healey's pledged support of $1.6 billion falls short of GBIO's request for $8.5 billion dollars, it is still a HUGE increase over what was in place before.


Gov. Healey also pledged support for the GBIO Housing Justice Campaign's Real Estate Transfer Fee initiative re: statewide enabling legislation for a local option to collect real estate transfer fees to increase funding for affordable housing.


GBIO is grateful to Gov. Healey, Lt. Gov. Kim Driscoll, and MA Housing Secretary Edward Augustus for supporting something so big and bold for housing in MA. GBIO deserves major kudos, as well. The Healey-Driscoll administration's support for the bond bill and the real estate transfer fee is a direct result of GBIO's stories, leadership and turnout these last two years.


We at UCW, together with the other 60 member churches of the Greater Boston Interfaith Organization, have done something game changing!
What's the Connection Between Residential Segregation and Health?

Residential segregation is a fundamental cause of health disparities. We need to take steps that will reduce health risks caused by segregation and lead to more equitable, healthier communities.

For some, perhaps the mere mention of segregation suggests the past, a shameful historic moment we have moved beyond. But the truth is, residential segregation, especially the separation of whites and blacks or Hispanics in the same community, continues to have lasting implications for the well-being of people of color and the health of a community.
In many U.S. counties and cities, neighborhoods with little diversity are the daily reality. When neighborhoods are segregated, so too are schools, public services, jobs and other kinds of opportunities that affect health. We know that in communities where there are more opportunities for everyone, there is better health.
Segregated Opportunities

The effects of residential segregation are often stark: blacks and Hispanics who live in highly segregated and isolated neighborhoods have lower housing quality, higher concentrations of poverty, and less access to good jobs and education. As a consequence, they experience greater stress and have a higher risk of illness and death


We think every community should be paying attention to the ways that residential patterns may be a barrier to good health. There are approaches that can help reduce the health risks caused by segregation and lead to more equitable, healthier communities:

Identifying the most pressing health needs in every community, and prioritizing those areas for investment.
Access to safe, affordable housing and financing for everyone, and eliminating housing discrimination.
Safe, reliable public transportation accessible to all.
Jobs with wages that enable people to take care of themselves and their families.
Improving access to healthy food in every community.
Read the full article and about the author at the
Robert Wood Johnson Foundation website: HERE.
If you would like to learn more about Advocates for Racial Justice activities at the
Union Church, please reach out to Nancy Zollers (

[email protected]

)
Intergenerational Community
UCW IS HIRING!
Seeking a Sunday Children's Ministry Associate
We are seeking a new Children's Ministry Associate/Teacher for our Sunday mornings. This is a fantastic opportunity for an adult who loves sharing God's love with children. If you know of someone who is grounded in Christian faith, inclusive of all, and has experience teaching/leading children, please share this opportunity and/or let Pastor Amy know.
Children, Youth and Families
Sunday School and Children's Ministry
Next Leaders' Meeting: Nov. 5th after worship
We are very excited for a new year with our Children's Ministry and Sunday School! We'll be sharing new Bible stories, age-appropriate spiritual practices, and service opportunities with our kids of all ages this year, and hope you and yours will be part of it! Our Children's Ministry planning and leadership team will meet in Pastor Amy's office after worship on Nov. 5th -- all are invited!


Please fill out a registration form below for your children/youth so we can make this year a great experience for them.
Youth Group and Exploring Our Faith
High School Seniors and Juniors, Rest & Writing Retreat

TOMORROW, Saturday, Oct. 21th from 5:30-8:30 p.m.
High School juniors and seniors are invited to come by the church tomorrow night for dinner, rest, renewal, and a time for writing and creativity. Whether you are looking for a little extra time and support finishing college essays, working on some art, or just resting, breathing, and having some fun - come on by! Contact Pastor Amy or Soo Laski for details and to let us know you are coming.
Next EOF Meeting - Mentors Invited

Sunday, Nov. 5th from 5:00-7:00 p.m.
Our High School Exploring Our Faith group is in full swing! All EOF students are invited to our next meeting, along with any HS juniors, seniors, or mentors that would like to come hang out.
November Overnight Retreat Registration
All High Schoolers are also invited to the Youth Retreat: Sabbath in a Modern Age at Silver Lake in CT on Nov. 10-12. Our registration is due this week, so please let Pastor Amy know if you can come if you haven't already. You can find out more about the retreat HERE, and see the full Youth Group calendar below.
UCW Volunteer Opportunities
Sunday Reception Sign-Up
Thank you to Linda Lynch for hosting our reception this Sunday!


The next Sunday that we need a volunteer for is November 26. Please consider signing up if available.


(Simple guidelines listed here also.)
Scripture Reader Sign-Up
If you are joining our Sunday worship, please consider signing up as a Scripture Reader for any of our upcoming services.


Scripture Reader Sign-up: HERE
Thank you!
Pastoral Care Connections
Please don't hesitate to reach out to Senior Pastor, Rev. Megan Berkowitz, or Associate Pastor for Youth & Families, Rev. Amy Clark Feldman for prayer or pastoral support.
and her phone is 617-965-3893

Friday is a day of Sabbath for Pastor Megan; Monday is Pastor Amy's day of Sabbath. With a pastoral emergency, please don't hesitate to reach out to either pastor.
We, the members of The Union Church in Waban, true to our founding principle of being an inclusive church, covenant together to nourish and to sustain in our common life and practice a fully welcoming and affirming church for all persons. Welcoming all persons who seek to join with us in a commitment to love God and our neighbors, affirming the inclusive love of Jesus, we are open to all, without regard to race, gender, sexual orientation, gender identity and expression, nationality, ability or economic circumstance. We invite all to full participation in our worship, membership, leadership and life of this church.