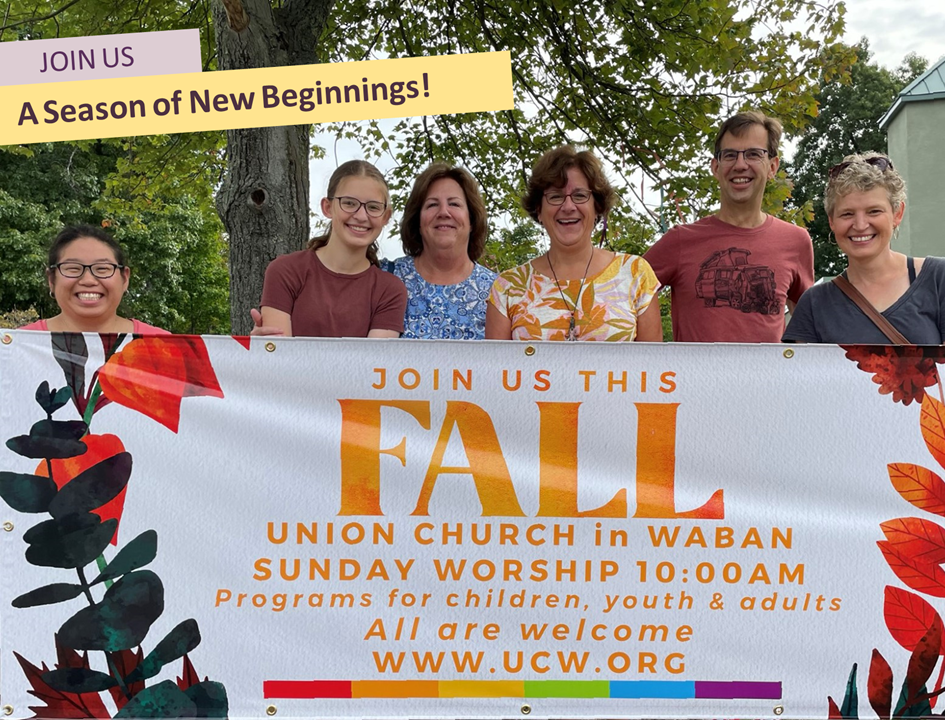 Fall Worship (In Person and on Zoom!)
Sunday, October 29 at 10:00 a.m.
Gather in community this Sunday as we seek God's hope and peace in our hurting world. We'll explore the story of how, after the reign of King Solomon, God's people became so divided and distant from God that the kingdom split in two -- and remember that, then as now, God never leaves us without hope or a path back to wholeness. We hope you'll join us!
Congregational Meeting - October 22, 2023
Last Sunday we had our first Congregational Meeting of the church year and it was well attended by 32 people, in the Vestry and on Zoom. We unanimously approved the nomination of Jenny Weisz for a 2-year term at-large seat on the Nominating & Leadership Development committee.
Rob Purser provided an update on where we are with pledges. There are 29 pledges thus far, which is 11 fewer than last year. That puts us $12,000 behind our budgeted amount for this year, mainly because not everyone has submitted their pledges yet. So if you have not submitted your pledge or, knowing we have a gap, wish to increase your pledge, please do so at your earliest convenience: HERE .


We also talked about a piece from our church profile (view HERE), that Amy McMahon had picked out around being Welcoming, and how we constantly work on this. It led to some great conversation where people shared their stories and perspectives, like Java Gents and Nicaragua.


It was also a nice segue into our final, and main agenda item. We talked in small groups about Inreach and Outreach, what it means, why it is important to us, and what we can do as a church and as individuals. Seeing everyone engage so deeply in this topic was an affirmation of who we want to be as a church. We are still processing all the notes from the breakout groups, but stay tuned for next steps and how we all can participate in this!


Our clerk, Jean MacDonald, has already put the minutes together and you can find them HERE. We will officially vote to adopt the minutes at the next congregational meeting.


Susan Hunt Stevens & Jaap van Reijendam (co-moderators)
"The righteous will answer, 'Lord, when was it that we saw you hungry and gave you food or thirsty and gave you something to drink? And when was it that we saw you a stranger and welcomed you or naked and gave you clothing? And when was it that we saw you sick or in prison and visited you?' And the Sovereign One will answer them, 'Truly I tell you, just as you did it to one of the least of these siblings of mine, you did it to me.'"



Matthew 25:37-40
I am away this weekend officiating a dear friend's wedding. I have found myself officiating at a lot of friends' weddings in the last few years (as many young clergy do), and somehow, they are all interfaith, intercultural, or otherwise marriages between two people with differing backgrounds, beliefs, and practices. This week's is a Sikh and Mennonite/Quaker wedding, and has been an absolute joy to plan.


There is something about taking away expectations – how a wedding SHOULD be – that allows for creativity and freedom. This scripture is part of the Christian reading this couple selected, and it's certainly the first time I've ever been asked to give a wedding homily on Matthew's "The Sheep and the Goats." But the couple, though they don't share the same cultural or religious upbringing, are building their marriage around a strong, shared sense of justice and the dignity and worth of all people that emerges from both of their traditions.


It has been a particular joy, in a time of widening divisions across cultural and religious lines, to be reminded of how finding common ground with those different from us enriches the whole world. Jesus didn't tell us to ask others about their beliefs or qualifications before reaching out in mercy and care; he told us to love one another.

Gracious God, we turn to you in prayer, knowing that you strengthen us in every trial. Be with us, we pray, and for all those who are in need of your healing, transformational love.


God, we grieve the senseless loss of life in yet another mass shooting in Lewiston, Maine. Bring comfort to those who grieve, healing to those who were wounded by or witness to the violence, and strength to all those who seek action to prevent any further gun violence in our communities.
We pray for peace all throughout the world. For the people of Israel and Palestine, the people of Ukraine, people in every part of the world whose lives are threatened by war and violence. Teach us to beat our swords into ploughshares, o God, and to sow wisdom and reap peace, justice, and joy for all people.
For all in our UCW community who are ill, or who are caring for loved ones. For all who grieve, God, we ask for the comfort of your presence. This week we pray in particular for all who are grieving Janet Holly, who died a year ago this week.
We pray for our high school seniors, who are working hard on college applications and other plans for after graduation, and for their loved ones supporting them.
We offer our gratitude for the wisdom shared in this community at our congregational meeting last Sunday.
We pray in the name of Jesus, in whose Way we walk each day. Amen.

If you have other prayers of concern or celebration you
would like lifted up in community, please email
Volunteer for Fun UCW Service Opportunities!!
The UCW Mission team is often looking for volunteers to contribute
to and enjoy our wide range of service activities and programs.
Community Thanksgiving Program
Coming up on November 18<sup>th</sup> is our Community Thanksgiving Program, where UCW volunteers provide take-home thanksgiving meals to families in partnership with the Newton Food Pantry. We are looking for 12 volunteers the morning of the 18<sup>th</sup> and 2 or 3 the evening of the 17<sup>th</sup>.


UCW Fall Cleanup
We will likely repeat our UCW fall cleanup program on the 18<sup>th</sup> , this is another great way to volunteer and have fun with UCW community members. Stay tuned for details on that.


More broadly, feel free to reach out any time to mission chairs Kevin Johnson (kjohnson@electionreformers) and Frank Laski (

[email protected]

) to find a good volunteer opportunity for you, or conversely to share information about volunteer opportunities.
All-Church Gatherings & Adult Formation
Community Game Night (All-Ages!)
Tomorrow! Saturday, October 28 at 5:30 p.m.
Be sure to join our awesome game night for dinner, fun, and a little friendly competition! Bring a friend and favorite game to share. We'll gather at the church from 5:30-8:30 p.m.
October Book Group
Tuesday, October 31 at 7:30p.m. (On Zoom)
Necessary Trouble: Growing Up at Midcentury
by Drew Gilpin Faust
Please join us again on October 31 at 7:30 p.m. for our next book group. Our book will be "Necessary Trouble: Growing Up at Midcentury" by Drew Gilpin Faust.
You will find a zoom link and sign-in information below. If you have any questions, please reach out to Alan Cody (

[email protected]

).
Zoom Link:
HERE
Meeting ID:
832 4667 4155
Passcode:
431699
Dial in:
1 646 558 86560
Wellspring Women's Ministry
Wednesday, November 1 at 6:30 p.m.(In-Person)
Wellspring will meet again next Wednesday, November 1<sup>st</sup> at 6:30 p.m. Newcomers are welcome. If you are interested in learning more about Wellspring, please contact Amy McMahon at

[email protected]

.


Wellspring is our women's ministry at UCW. We come together to support each other as we journey together in these times.
Weekly Bible Study with Pastor Megan
Thursdays at 12:00 p.m. on Zoom
Join Pastor Megan for a weekly, drop-in lunchtime Bible study on Zoom throughout October and November (except 10/19 and 11/23) ! We will discuss the history and context for the given passage each given week, and think together about how this sacred scripture speaks into our own lives and this historical moment.
We'll be studying the coming Sunday's scripture for worship, which means there is no supplemental reading and no issues with missing a week and returning. Whatever your comfort and familiarity with the Bible, you are welcome! All have wisdom to share, and all have new things to learn.
Zoom Link: HERE
Meeting ID: 863 1718 5274
Passcode: 386028
Dial in only: 1 309 205 3325
Meeting details are also posted on our website at www.ucw.org.
"Quieres aprender español?"
Stay Tuned as Plans are Finalized!
Stay tuned as we finalize plans for Spanish lessons, open to all, coordinated by the Nicaragua committee. Cost and times will be shared soon. Also, please contact David Spertner if you are interested at

[email protected]
Committee News
As many of you know our Church has been sponsoring deserving Nicaraguan high school students on their college journey through one of our community partners the Brugger Foundation .
Our first graduate in 2008 was Yarisleidy Cortez who, later became the Director of Community Development for a local NGO which we have worked with as well. She has continued to be a part of the Church by assisting us on projects when we are in country and also participating in any zoom event she is able to for our Church. We are very proud of her. I am thrilled to take a moment to highlight some of the great work of Comunidad Connect and Yarisleidy in a short video of a recently completed project of theirs. View the Comunidad Connect - Homes For Good video clip HERE or below.
Service Trip
The 2023-2024 will not be a sanctioned trip year for the Church as we traveled last year and served the community at both our sister Church Alpha y Omega and the Maria Auxiladora School. At Church we prayed, broke bread, served the hungry and played games with the children. At the school we painted, provided electricity, coordinated a clean water storage with a pump and most assuredly made some new friends during all our travels. We will continue the mission work here at home this year with some programming and support from a far.


We look forward to our next service trip to Nicaragua in February 2025!
Intergenerational Community
UCW IS HIRING!
Seeking a Sunday Children's Ministry Associate
We are seeking a new Children's Ministry Associate/Teacher for our Sunday mornings. This is a fantastic opportunity for an adult who loves sharing God's love with children. If you know of someone who is grounded in Christian faith, inclusive of all, and has experience teaching/leading children, please share this opportunity and/or let Pastor Amy know.
Children, Youth and Families
Sunday School and Children's Ministry
Next Leaders' Meeting: Nov. 5 after worship
We are very excited for a new year with our Children's Ministry and Sunday School! We'll be sharing new Bible stories, age-appropriate spiritual practices, and service opportunities with our kids of all ages this year, and hope you and yours will be part of it! Our Children's Ministry planning and leadership team will meet in Pastor Amy's office after worship on Nov. 5 -- all are invited!


Please fill out a registration form below for your children/youth so we can make this year a great experience for them.
Youth Group and Exploring Our Faith
November Overnight Retreat Registration
All High Schoolers are also invited to the Youth Retreat: Sabbath in a Modern Age at Silver Lake in CT on Nov. 10-12. Our registration is due this week, so please let Pastor Amy know if you can come if you haven't already. You can find out more about the retreat HERE, and see the full Youth Group calendar below.
Next EOF Meeting - Mentors Invited

Sunday, Nov. 5<sup>th</sup> from 5:00-7:00 p.m. (Mentors gather at 4:30p.m.)
Our High School Exploring Our Faith group is in full swing! All EOF students are invited to our next meeting, along with any HS juniors, seniors, or mentors that would like to come eat dinner, explore faith in our world today, and share spiritual practices.
UCW Volunteer Opportunities
Sunday Reception Sign-Up
Thank you to Alan Cody for hosting our reception this Sunday!


The next Sunday that we need a volunteer for is November 26. Please consider signing up if available.


(Simple guidelines listed here also.)
Scripture Reader Sign-Up
If you are joining our Sunday worship, please consider signing up as a Scripture Reader for any of our upcoming services.


Scripture Reader Sign-up: HERE
Thank you!
Pastoral Care Connections
Please don't hesitate to reach out to Senior Pastor, Rev. Megan Berkowitz, or Associate Pastor for Youth & Families, Rev. Amy Clark Feldman for prayer or pastoral support.
and her phone is 617-965-3893

Friday is a day of Sabbath for Pastor Megan; Monday is Pastor Amy's day of Sabbath. With a pastoral emergency, please don't hesitate to reach out to either pastor.
We, the members of The Union Church in Waban, true to our founding principle of being an inclusive church, covenant together to nourish and to sustain in our common life and practice a fully welcoming and affirming church for all persons. Welcoming all persons who seek to join with us in a commitment to love God and our neighbors, affirming the inclusive love of Jesus, we are open to all, without regard to race, gender, sexual orientation, gender identity and expression, nationality, ability or economic circumstance. We invite all to full participation in our worship, membership, leadership and life of this church.