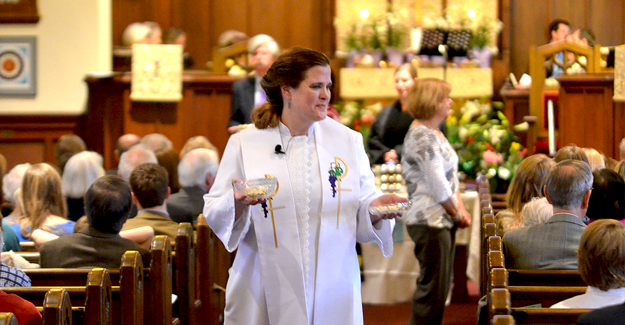 Rev. Stacy Swain
Senior Pastor

NOTE: Our beloved Sr. Pastor Stacy Swain shared her final Sunday with The Union Church on June 27, 2021. We are currently in a time of discernment as we seek an interim minister, and begin our search for our next settled pastor. If you would like to contact the church, or are seeking pastoral care, please reach out to our Associate Pastor at [email protected]
Stacy comes to ordained ministry in the United Church of Christ after more than twenty years experience in the field of public health with poor and disadvantaged populations. Stacy envisions church as an inspiring community of people who are committed to following the Way of Jesus — growing in love of God and of each other while doing justice, loving kindness, and walking humbly with God.

Stacy was born and spent most of her childhood and youth in Minnesota. She received a B.A in English literature from Carleton College in Northfield MN, a Master of Public Health with concentration in Epidemiology from the School of Public Health at Boston University and a Master's of Divinity from Andover Newton Theological School where she graduated with distinction and received the award for excellence in biblical studies.

Stacy and her husband Mark have two adult children and two dogs.  They live in Roslindale, Massachusetts. Stacy returned from Sabbatical in the fall of 2016 when she and Mark walked El Camino de Santiago de Compostela, a 800 kilometer pilgrimage across northern Spain.
Rev. Amy Clark Feldman
Associate Pastor for Youth and Families
Amy is an ordained minister with the American Baptist Churches, and has a deep love for discovering the ways God is working in and through inter-generational communities of faith, and for nurturing the spiritual lives of children and youth.

Before serving as the Union Church's Associate Pastor, Amy served as the church's ministerial intern, and, before that, as the Director for Community Life and Communication at the First Baptist Church in Newton, MA.  She received her Master's of Divinity degree from Andover Newton Theological School, graduating with an award for excellence in communications, and a certificate in Interfaith Studies.

Amy's previous experience includes work building bridges and communicating across difference as a bilingual consultant to organizations in the US and Latin America.  In addition to her M.Div., she holds an M.B.A. from the University of Miami (FL) in international business and public administration, and B.A. degrees from the University of Connecticut in nonprofit administration and Spanish.

Amy lives in Natick with her two sons, her husband Greg, their rescue dog Cody. She is a runner who loves to spend as much time as possible in the great outdoors.
Aidan Cunningham
Office Manager
Aidan  is at the hub of our communications, finances and daily operations of the church.  Aidan's prior work experience includes twenty years in sales order administration in the semiconductor industry.