Read about our ongoing regular programming for both adults and children. Save the dates for these following events.
All Comers Dinner
Don't miss a chance to get together with the Union Church family. See some old friends and meet some new ones. This fun event will take place again on Friday evening, May 3rd at 6:30. Contact the office for details and to sign up.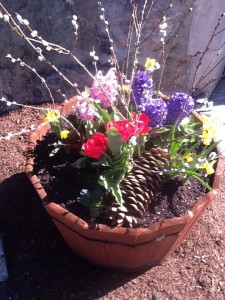 Clean-up Day
Help us out on the morning of May 4, and show your support of our church by caring for the building and grounds. Come for an hour or the whole morning; every bit helps. All ages and abilities welcome. Contact the office to volunteer.

Care and Creation Sunday, May 19
We will start the day by meeting at Cold Spring Park here in Newton, and riding bikes to the Union Church, where we will hold a Blessing of the Bikes. This event co-incides with the Waban Village Day.
Annual Meeting
This year's Annual meeting will be held on Sunday, June 2, following worship and reception. Everyone is invited to hear a recap of the past year, and be part of the exciting plans for the upcoming 2013-2014 church year. Childcare will be available.
Children's Sunday
Our yearly Children's Sunday will be held on June 9. On this day, our children and youth will lead us in worship. We will also be commissioning those from Union Church who will be traveling to Zambia this summer.
Following worship, join the Union Church family for a fun afternoon at our much-anticipated yearly church picnic. We will meet at Claxton Park in Needham and enjoy good food, games, and fellowship. Save the date for this kick off to summer. Go here to sign up.
Last church year service
This year our last service, before we break for the summer, will be held on June 16. Although this Sunday closes out the church year, we will have summer services on July 21st and August 18th.
Check back in for additional summer programming.