Walking in the Way of Love is hard.  Especially when there is so much fear, anxiety, hate and violence spinning all around us these days.  Here at UCW, we are companions on a  journey, fellow seekers, teaching, learning, supporting, challenging and guiding each other in non judgmental community of care and compassion.  We seek to grow in love of God, self and neighbor and strengthen our call to discipleship so that we may be beacons of hope, sources of comfort, fonts of inspiration, and ambassadors of love, in this beautiful but wounded world.

As such, in addition to weekly worship, there are many small groups that provide an opportunity to strengthen relationship and to deepen and explore faith.   These opportunities are detailed below. Pastor Stacy always welcomes new ideas and suggestions, so if there is something you would like to engage or explore that you do not see below, do not hesitate to reach out to her.
---
Sunday Morning Bible Discussion

We gather every Sunday from 8 – 9:00 am to study scripture and reflect on how God's word informs our living today. Instead of following a curriculum, we simply choose a book of the Bible and read it out loud together, pausing as we do to reflect on what the text is saying and how it may impact our lives today. No previous Bible study or Biblical literacy is needed. Come every Sunday or come when you can. All are welcome. We are holding Bible study at this time so as to not conflict with choir rehearsal at 9:00 a.m. Please consider making a morning of it – Bible Study, Choir and then Worship!
---
Monday Morning Bible Discussion
Beginning October 1st and running for 6 weeks, we will gather at 10:30 am in Pastor Stacy's office to engage in exploring a new bible study from the Massachusetts Bible Society entitled Exploring Justice: The Ten Commandments. The study will delve into understanding the teaching of our faith in their ancient context and in light of the needs of the world today. Please see Pastor Stacy if you are interested in participating.
---
Lunch Bunch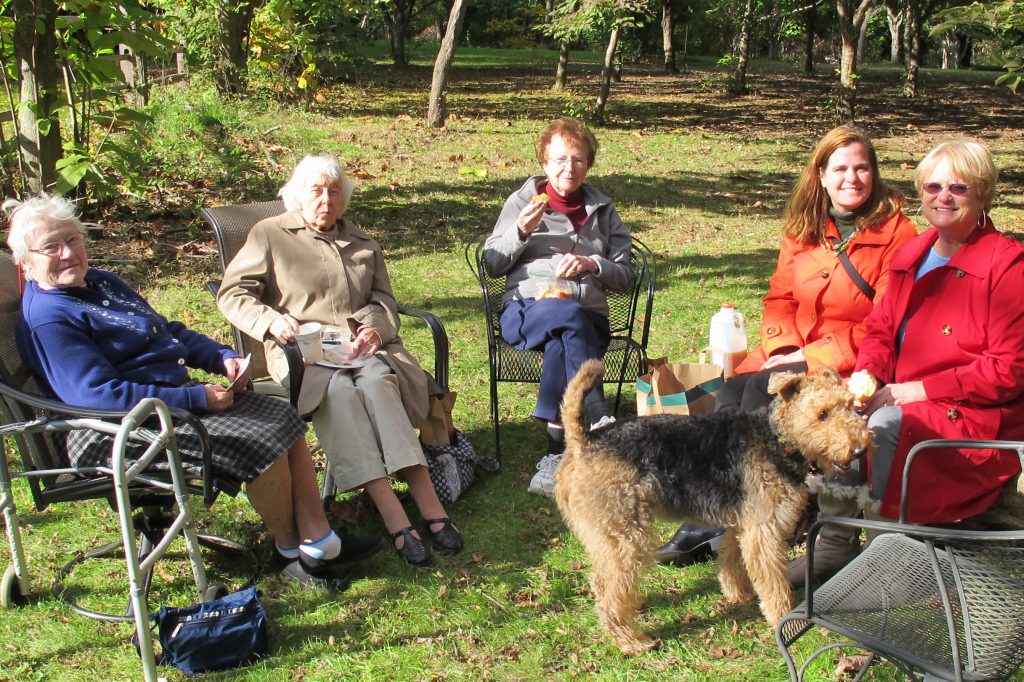 The last Wednesday of every month, the Lunch Bunch gathers from 12:00 – 1:30 for a time of conversation and fellowship. Most months we meet at church in the reception room but several times a year we will head out to explore some place new, like our excursion to the Mary Wakefield Estate in Milton pictured here. Lunch is provided. If you are interested in attending please be in touch with Pastor Stacy at [email protected] or call 617-965-3893
---
Wellspring
Wellspring is our women's group. Wellspring will gather again on Tuesday, SEPT. 18, Due to Stacy's September schedule, we will be meeting on a Tuesday this month.
We're suggesting a couple of changes this season:
1. That we meet in September, October and November then skip December, January, and February ( due to inclement weather and travel schedules in the winter months) and gather again in March, April, and May.
2. That we use a book– Still Point: A Literary Guide to Prayer in Ordinary Time by Sarah Arthur. Our sharing time will continue to be the main precious component of our Wellspring gatherings. The book can be a supplement to our reflections on our individual and collective faith journey.  
Please note the following meeting dates: SEPTEMBER 18, OCTOBER 17, NOVEMBER 28 (after Thanksgiving); (No meetings in December, January and February); MARCH 20, APRIL 10 (before Holy Week), MAY 15 (followed by a retreat on May 17-19 at Toah Nipi in Rindge NH). God's blessings for each of us and for Wellspring as a gift of sisterhood!
---
Java Gents
Java Gents is an informal monthly breakfast hour for the men of the UCW congregation. It provides friendly fellowship and mutual support to the men.. Buz Bedford cooks up a full, hot breakfast. Jay O'Beirne hosts the lively discussion of timely topics, and personal goings on among the men.
Java gents usually meets the third Friday of each month in the church reception room at 7am.
---
Waban Health Worship
On the third Thursday of the month UCW and the Waban Health and Rehabilitation Center (located in Waban Square behind the Waban Market) hold a shared service in the activity room at Waban Health at 10:30 a.m. We sing, reflect on scripture, pray and partake of communion together. This is a Spirit filled time of loving fellowship and praise filled worship. Everyone is welcome. Please see Pastor Stacy for details.