Hola Everyone-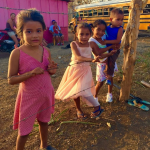 Our adventure is quickly approaching and the planning team is working hard, being flexible and making great progress bringing many things together so that this journey can be as rewarding as possible.
We are looking forward to being all together on the 21st where we will give comprehensive and detailed information about our week in Nicaragua and answer any questions. Please plan on attending that important gathering. In the meantime, please find below some updates. As always, know you can reach out to Dave (jefe) at any time with anything that may be on your mind. Karen Weisgerber, Pastors Amy and Stacy are also ready to help.
Nicaragua 2018 Packing List (1): Please note that there is often an opportunity to leave clothing/shoes in Nicaragua at the end of our trip as a donation if you would like to do so.
Calendar
Jan 9 Tuesday – Pizza Night – Cancelled. Please come to the meeting on the 21st!
Jan 21 Sunday – Youth Bake Sale during Church
Jan 21 Sunday – Full Traveler Meeting @ 6PM @ Church
Feb 11 Sunday – Commissioning of Travelers during Church Service and brief meeting following Church
Feb 16 Friday – Off to Nicaragua
March 11 Sunday – Nicaragua Church Service led by the Travelers where we will share what we experienced and learned with our fellow congregants.
Project: We will be working in San Bernardino at the Jose Cecilio del Valle School which is about a 45 ride northeast of San Juan del Sur.
We will be completely rebuilding and putting back into operation the health center
We will be connecting 28 families to municipal water
We will be painting the school
We will be working hand and hand with the community
We will be bringing hope and joy into this neglected but spirited community
We will be constructing a new type of latrine that promises to address the problem of ground water contamination
Other Activities
We will continue to support the Alpha y Omega Church by supplying and building desks/furniture for the classroom we helped build last trip
We will continue to support the Mobil Library by providing needed educational posters for classrooms and assist in delivering books and fun to rural schools that depend on the library
We will have discussions related to work in Nicaragua and mission and opportunity to explore and connect more deeply with our spirituality and faith.
We will continue to support the Brugger Foundation by sponsoring and participating in a Baseball clinic which provides opportunities for underprivileged youth
We will be making a new connection and provide help to Casa Materna which is an organization that provides housing and support to later term pregnant women who move there from their remote villages and would otherwise struggle or not receive the much needed services. This program saves lives.
We will have fun, swim and even go on a scavenger hunt
Travel
Hotel/Flights: The airline has given us some challenges by changing many peoples flights, dates, & times. If you have any questions about your flight or hotel, please contact Karen Weisgerber. Also please be sure that Karen has your latest and most up to date flight information. Keep an eye on your reservations and note any changes.
Please see the packing list attached.
Remember to check with your doctor about what shots are needed
Remember to check your passport: In addition, The U.S. Department of State recommends your passport have at least six months of validity—beyond your actual travel date—to avoid expensive and lengthy travel disruptions. The normal rule for most countries is that they require you to have three months from your actual travel date before your passport expires. ( I am unclear of the Nicaragua Rule)
American debit cards work in ATM only
ATM cards will work and there are ATM's
Credit cards accepted at most places. Check with your credit card company to see if you have an international transaction fee.
Be sure to inform your bank and credit card company as to the dates of your travel.
You do not need a power adapter in Nicaragua. The voltage and shape of the outlets is the same as in the U.S. (https://www.power-plugs-sockets.com/us/nicaragua/)
There is cell phone coverage in Nicaragua, but again be sure to check with your carrier to see if your plan covers Nicaragua or if you need to purchase international coverage. Also, be clear from them on the data/phone and txt charges.