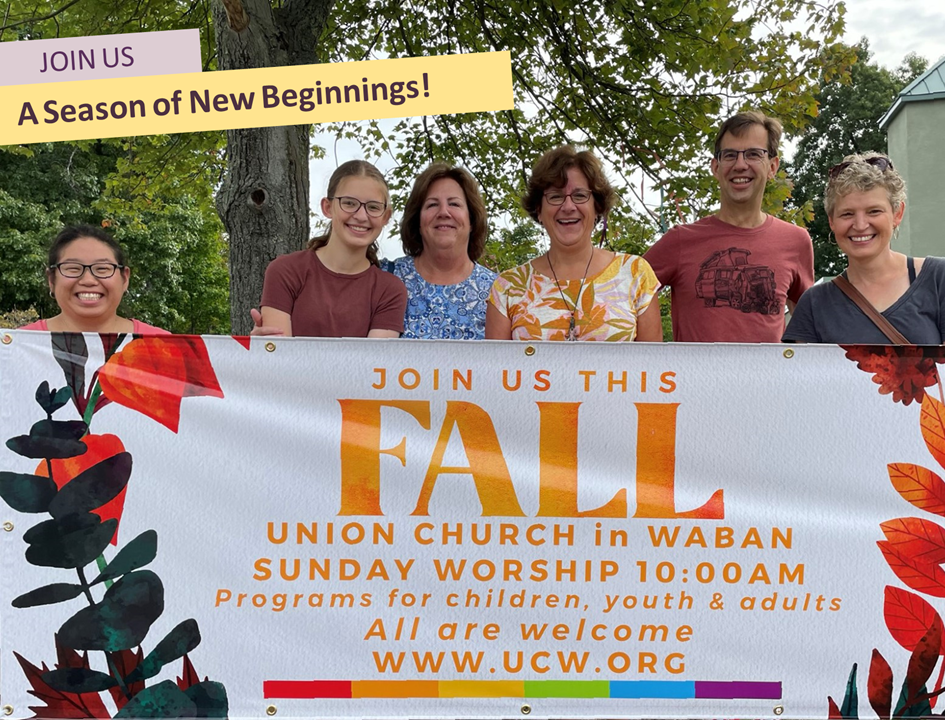 Welcome Sunday
September 10 at 10:00 a.m. (In Person and on Zoom!)
Meet Rev. Megan for worship, communion & Sunday school
Followed by a Special Picnic Reception, Games, and Celebration
12:30 p.m. Exploring Our Faith Information Session
We are excited to kick-off this new season in the life of our church and hope you and your family will join us for this special Sunday!


Welcome our new Senior Pastor, Rev. Megan Berkowitz, as she leads us in worship for the first time; connect with friends and community; and enter this new year with hope, faith, and joy.


Our Sunday School for children and youth will also begin on this day! Youth and kids are invited to help set up our lawn games, photo booth, and food for our picnic following worship. We have sandwiches and picnic basics, but welcome donations of sides and desserts.


Our parent orientation for the Exploring Our Faith will begin following the picnic (see below for details).
Image by K. Byron - used with permission
The sky is shouting its joy, the earth dances its gladness,
The sea roars in jubilation,
The fields, with plants and animals,
Are making merry, and the trees are singing.
Listen for God's footsteps!


Psalm 96:11-13a (transl. Rabbi Jill Hammer)
Psalm 96 lends this text to one of my favorite songs from the Friday night Shabbat service. I love to worship God while singing about how the rest of Creation is worshiping right alongside me (and sometimes even leading the choir)! Maybe you experienced that last weekend as you worshiped in place. If you did, I would love to hear about it. Or maybe, with the start of a new school year, the pressure to squeeze the last few drops of goodness out of summer, a difficult season in your life or family, or reading the news, you feel out of tune with the jubilant music the Psalm describes.


No matter where you find yourself, you are welcome in this community. This Sunday, from the start of choir practice to the last bit of cleanup after the special reception picnic and games, and throughout lots of worship and fellowship in between, we will be making merry and singing our songs of joy to God who created us and sustains us still. We'll also pray for our hopes and our needs, asking for grace and mercy, trusting that God can hold our complications and pain right alongside our joy and singing.


Wherever we find ourselves, let's "listen for God's footsteps!" Together we may hear where God is already present in our lives, and see what paths God is leading us down in this season of new beginnings.


All-Church Gatherings & Adult Formation
Bible Study Information Session
Tuesday, September 12 at 6:30 p.m. (Zoom!)
Whatever your knowledge of and comfort with reading the Bible, you are invited to join Pastor Megan for an information session as we begin to plan for a Fall Bible study session. We'll discuss topics, resources, and timing for meetings in an effort to make this group accessible to all who wish to join in.


Join us on ZOOM HERE
(Link also available at www.ucw.org homepage)
JAVA Gents
Friday, September 22 at 7:00 a.m. (In Person)
Java Gents kicks off a new season on September 22, at 7:00 a.m. at Dan and Brian Heffernan's home at 9 Parmenter Terrace, West Newton, MA.
A hearty hot breakfast for the Gents will include great hot coffee and bagels and cream cheese. All are welcome. Lively conversation is also on the agenda.
JAVA Gents is the informal get-together of the men of the UCW congregation (and community). The group aims to provide friendly fellowship and mutual support to the men. We will enjoy a lively and supportive discussion of timely topics as well as personal goings on in our lives.
Newcomers are always welcome. Please contact either Jay (
[email protected]
), or Buz (
[email protected]
) if you have any questions or would like to be added to the Java Gents mailing list..
September Book Group
Tuesday, September 26 at 7:30 p.m. (Zoom)
Please join us again on September 26 at 7:30 p.m. for our first meeting of the new church year. Our book will be "Traffic" by Ben Smith
You will find a zoom link and sign-in information below. If you have any questions, please reach out to Alan Cody (

[email protected]

).



Zoom Link: HERE
Meeting ID: 832 4667 4155
Passcode: 431699
Dial in: 1 646 558 86560
UCW Volunteer Opportunities
2023-24 Communications Team
Are you interested in helping us spread the word about UCW?
We are looking for new members to help on various aspects of the Communications team. Please let Alison or me know if you are interested in joining us and if you have a preference of which area you would like to work on.

Outreach

- connecting with other organizations in the Newton area, sending out postcards/messaging about UCW.

Events

– local fairs etc.

PR

– writing articles, posting on social media, sharing info in the community, online news.

Signage

– Main sign, banners, events, signage inside church, Communication wall
We are looking forward to hearing from you!
Sunday Reception Sign-Up
Thank you to our Youth Team who are hosting our reception this Sunday!


The next Sunday that we need a volunteer is October 1.


(Simple guidelines listed here also.)
Scripture Reader Sign-Up
If you are joining our Sunday worship, please consider signing up as a Scripture Reader for any of our upcoming services.


Scripture Reader Sign-up: HERE
Thank you!
Pastoral Care Connections
Please don't hesitate to reach out to Senior Pastor, Rev. Megan Berkowitz, or Associate Pastor for Youth & Families, Rev. Amy Clark Feldman for prayer or pastoral support.
and her phone is 617-965-3893

Friday is a day of Sabbath for Pastor Megan; Monday is Pastor Amy's day of Sabbath. With a pastoral emergency, please don't hesitate to reach out to either pastor.
Intergenerational Community
Children, Youth and Families
Sunday School Kick-Off and All-Church Picnic!
SAVE THE DATE for our Kick-Off Sunday on September 10th. Come meet Pastor Megan, and start the new school year with friends and faith!


Come at 10:00 a.m. for worship and Sunday School; and stay at 11 :00 a.m. for an All-Church Picnic with outdoor games (weather permitting). Kids will help us set up games during Sunday School before returning for Communion.
Blessing of the Backpacks - All Ages

Be sure to bring your backpacks, laptops, briefcases, lunch boxes, walking shoes - whatever needs blessing as we begin this new year! - to worship on Sept. 17. We'll bless these items we carry, along with those who carry them, during worship.


Exploring Our Faith - High Schoolers this Fall
PARENT INFO SESSION AND ORIENTATION
We're excited to start up our Exploring Our Faith (confirmation/baptism) series for high-school freshmen and sophomores (and any others who want to join!) this year. We'll have fun, serve others, ask important questions, build meaningful relationships, and explore the role of faith in our lives. Families with 9th and 10thth graders should have received an email this week with more information. With questions, or to learn more, contact Pastor Amy (

[email protected]

).
PARENTS: Parents are also encouraged to attend our orientation on Sept. 10 at 12:30 p.m. in Littlehale. We'll gather following the All-Church Picnic and celebration to connect and review the goals, schedules, and expectations for the year together. Attending this session in-person is preferred, but Pastor Amy (

[email protected]

) also sent a zoom link for those who are out of town (pls email Amy with any questions).
Children, Youth, Families and Mission Fair
Sunday, Sept. 17, following Worship
Following worship and the Blessing of the Backpacks, our special Children, Youth and Families Fair returns! We'll share Sunday School and Youth Group Registrations, Calendars, Sign-ups, and more. We'll also have a CORI background check station for all teachers, mentors, and others working with our kids this year. We hope you'll join us!
Community Service Opportunities
Newton Freedge - Feeding our Neighbors
Our team of volunteers helps keep Freedge running one Saturday a month. Please use the the link below, or reach out to Vinita Leslie, Karen O'Beirne or Erika Pond to learn more or to join our team.


Despite Newton's image as an affluent suburb, too many of our neighbors struggle to put food on their tables. The Newton Freedge is one way we can help. A free, 24/7 outdoor refrigerator and pantry, the Freedge provides free food and personal supplies to anyone who needs them.
We, the members of The Union Church in Waban, true to our founding principle of being an inclusive church, covenant together to nourish and to sustain in our common life and practice a fully welcoming and affirming church for all persons. Welcoming all persons who seek to join with us in a commitment to love God and our neighbors, affirming the inclusive love of Jesus, we are open to all, without regard to race, gender, sexual orientation, gender identity and expression, nationality, ability or economic circumstance. We invite all to full participation in our worship, membership, leadership and life of this church.