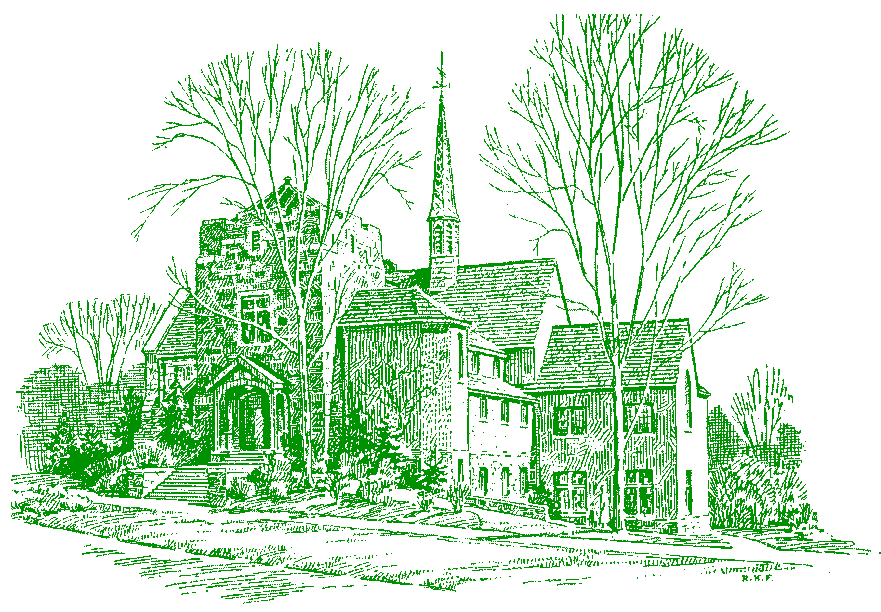 The Union Church in Waban is an interdenominational congregation, and it was conceived as such by those first few members who gathered together in December of 1904. Waban was a newly developing suburban community. The Waban railroad station, whose designation gave this village its name, was not yet even 20 years old. Most of its young home owners were in their 30s with growing families of children. They themselves had grown up at at time when people took religious denomination very seriously, often choosing even to socially exclude those of other beliefs. Thus, they sought to create an inclusive church which they felt was closer to both Christian doctrine and to American ideals.
Soon after the beginning of 1905, a small congregation gathered for worship in Waban Hall, a community meeting hall above a cluster of shops near the railroad station. The building still stands, but with stores, including Starbucks, extended to the sidewalk. Also meeting there was the Sunday school which opened with 36 children.
Over the next six years, the ministry of the church was led by retired pastors while the growing congregation made plans for a permanent church building and a settled minister. Funds had to be raised, never easy to do among young couples with small children and large house mortgages. However, this they managed with many fund-raisers and donations as well as a sizeable mortgage.
The lot on which the Union Church is built was generously given by William C. Strong, a well-known Waban nursery owner who raised mostly fruit trees for the market. The cornerstone was laid in 1911, and in September a year later, the new little church was dedicated. The Rev. Charles Cutler was called to be its first pastor.
With Dr. Cutler's guidance, the new congregation drew up a covenant reflecting its original ideal of the inclusive church, a covenant which continues to be promised by new members joining the Union Church together with all members present. It is as follows:
Trusting in God's grace to strengthen us, we hereby engage to be the Church of Jesus Christ in this place, to love and to serve God with all our heart, soul, mind and strength, and to love our neighbor as ourselves. We resolve to do justly and to love mercy, and to walk humbly with God.
It was a little church, quite a lot smaller than at present. It had an abbreviated chancel which held only three impressive chairs behind a centered pulpit in the best early New England tradition. There was a vestry beneath where a growing Sunday School met weekly and many events were held throughout the year. The so-called "Ladies' Parlor" was on the second floor of the tower.
By 1925, the needs of the fast-growing congregation had outstripped the building, so plans were drawn up for a major enlargement. This extended the nave, created a true chancel with an altar and choir pews, and a transept allowing for two chapels. Beneath, the vestry also was extended and a stage added which doubled as a new Ladies' Parlor. A number of new Sunday school classrooms were created as well.
The church congregation continued to grow as the population of the village of Waban expanded so that following World War II, a new addition was required. Opened in 1952, it included six Sunday school classrooms, an office for the pastor, one for the church secretary, and a large reception room.
Union Church has always provided space for community organizations to meet: Boy Scouts and Girl Scouts, Cubs and Brownies, the Waban Garden Club, and for many years the Waban Improvement Society and the Waban Women's Club, and it continues to do so.
Rev. Charles H. Cutler, D.D.
As he was preparing to retire as the first minister of The Union Church in Waban, the Rev. Dr. Charles H. Cutler gave this articulate summary of what "the idea of the Union Church" meant to those who had established and nurtured the idea.
"Have we been doing anything out of the common here during these years in which we have been working together as people and pastor? Is there anything significant, characteristic and distinctive in this development? Is there any idea for which we have been standing together in this Union Church in Waban, by which we have progressed and in which we are united? And if we are able to discern any such formative idea, what is the assurance that it will survive the changes that come?
"In 1907, the following admirable statement of the aims of the Union Church Society was issued:
"The Union Church Society is at Waban for the good that it may do. It aims to be as catholic in spirit as it is comprehensive in name. It aspires to be a center of Christian worship, Christian fellowship, Christian activity. Here the stranger is always welcome, here families will find a spiritual home, here children are taught the sacred Scriptures. No creed has been framed, but the great fundamentals of Christian truth are emphasized. The Bible is accepted as the basis of faith and practice."
The terms of admission? "In accordance with Jesus' teaching [of] true religion: 'Thou shalt love the Lord thy God with all thy heart, and with all thy soul, and with all thy mind, and thy neighbor as thyself."
…If we may now venture to give it a name:
"The Union Church Idea: A Community Church affiliated with the Congregational Churches of the vicinity, but having a membership drawn from nearly a dozen different denominations, the Union Church in Waban stands for the expression of religion in worship and service without regard to sectarian lines. Founded on the faith which unites, it has been built up by united work."
"There is yet something in this Union Church Idea which we have not brought out and which is not so easily analyzed. Yet it is very real. It is like the atmosphere we breathe, pervasive, invisible, moving.
"So is this Presence – unseen but not unfelt. No one of us brought it here – but where two or three are gathered together in His name – there it is in their midst. It is often here. It was here last Sunday morning. I think it is here today. Some call it "homelike"; others, "friendly"; others "reverent", "prayerful" or "spiritual". We have different names – we all feel the same Presence and it is this Presence of the Spirit of the Church, call it what you may, that, more than anything else, makes us one.
"In our common worship, and in the teaching of school and pulpit we have emphasized the universal and the abiding Christian experiences: the experience of God in Christ; Prayer, Faith, Hope, Love, Christian discipleship as a Way of Life. There's nothing sectarian or divisive about these – they are too big. And so we have tried to emphasize the things of primary importance in religion as distinguished from the secondary things and to put first things first.
As his sermon continues, Reverend Cutler talks of Abraham Lincoln's response to a friend, who asked why Lincoln, of profound religious nature and a devout attendant at church, never joined a church.
"'I have never united myself to any church,' wrote Lincoln, 'because I have found difficulty in giving my assent, without mental reservation, to the long, complicated statements of Christian doctrine which characterize their articles of belief and confessions of faith. When any church will inscribe over its altars, as its sole qualification for membership, the Savior's condensed statement of the substance of both law and gospel, Thou shalt love the Lord thy God with all thy heart, and with all thy soul, and with all thy mind, and thy neighbor as thyself, that church
will I join with all my heart and all my soul.'
Dr. Cutler continued, "I like to think that we have been building a little church here which, had it existed in the 1850?s or the 1860?s, Abraham Lincoln might have joined "with all his heart and all his soul.
Reverend Cutler then describes what he himself had helped to form: the Idea of the Union Church.
"Gathered in this household of faith from a great variety of denominational traditions and associations, for some of us were Baptists, or Presbyterians, Methodists, Unitarians, or Congregationalists, though for the most part we forget it and you all look alike to me – our family life has been all the richer and more interesting. We know perfectly well that there are lots of matters of opinion and belief concerning which no majority of us would be agreed at all – but what of it? And so, for one thing, we have been standing for tolerance in religious opinion – a tolerance which comes not from mere indifference but which maintains in non-essentials, liberty; in essentials, unity; in all things, charity.
"Perhaps we may say that the Idea of the Union Church in Waban is the principle of an Inclusive Church based upon the simplest terms of Christian discipleship.
The inclusive church makes discipleship to Jesus central and fundamental and welcomes, yes, claims, everybody who wants "to keep fellowship with Jesus and to learn how to live." The Church of Christ is now, as it was in the beginning, just a group of folks anywhere, anytime, who have fallen in love with Jesus and His ideals of life, and are seeking to realize these ideals in all the relations of their lives. Wayfarers themselves they follow Him who is The Way.
"Something like this then – to sum up our conclusion – seems to be the rule by which we have walked: Working together for the things we hold dear, the things we hold in common, emphasizing the essential, the primary things, we have been building an Inclusive Church which welcomes everybody who wants to join us 'in keeping fellowship with Jesus and in learning how to live.'
"Where is the assurance of continuity for this idea of ours in the Union Church? We might indulge the hope, not unreasonably, that the first few formative years in the growth of a church may determine its future development. Yet, what is the ground of this hope? Not in its forms of its organization, its by-laws, or its covenant; for, as has been said, "continuity in any realm of human interest is not to be found in its formulations, but in its abiding life.
"Nor, again, in any individual…No! Men may come and men may go, but continuity of the Union Church of Waban for the future as of the past is secure in the Union Church Idea, which we have named the Idea of the Inclusive Church, holding the simple rule of Christian discipleship central and fundamental.
"Here then we rest in the assurance for the future of this Church, and, as I believe, for all the Churches of Christ today; for "The Church's one foundation is Jesus Christ her Lord."