Nicaragua Outreach
The Union Church in Waban may physically reside at the corner of Beacon and Collins streets in Newton, but our love, work and joy span the globe.
Growing out of the Newton Sister City relationship with San Juan del Sur, the Union Church first visited Nicaragua in 2002. Recognizing the importance of our congregation's service work in Nicaragua, not only in our own lives and those of our children, but also for so many Nicaraguans whom we have come to know, cherish, and help, the members of the Union Church in Waban voted at the 2005 annual meeting to make this relationship with Nicaragua and the city of San Juan del Sur an official church-wide undertaking. In the words of one of the travelers "When I first thought of Mission work, I thought about the word "give." How can we help others and what can we give them to help. But what I found was that I, personally, have received tenfold in return to what was given. The positive personal relationships which have developed as a result of these trips are immeasurable."The purpose of our work in Nicaragua is to promote the education, health and welfare of San Juan del Sur, and we give thanks for ways that we have helped contribute to freshly painted schools, clean and safe drink water, classrooms stocked with supplies so that teachers can teach and children can learn. But our relationship with the people of San Juan del Sur is about so much more. It is about realizing our common humanity, the joy of giving and receiving, and the deepening of friendship across border of nation, language or economic circumstance. Now. more than a decade later, with over 65 member of the congregation having gone on one of our intergenerational mission trips, the relationship has never been stronger. The Nicaragua Outreach Committee chaired by David Spertner serves as the liaison between the community of San Juan del Sur and the Union Church community. It is tasked with educating the congregation on the ongoing needs and life of our Nicaraguan neighbors; planning and organizing the bi-yearly trips to San Juan del Sur (during February school vacation week ); coordinating annual fundraisers including our Christmas greens sale; and nourishing and strengthening our friendship and partnerships in Nicaragua through regular communication and visits.
The 2012 trip to San Juan is documented in our trip blog here: ucw-nicaragua.blogspot.com
The travelers from the Union Church's 2014 mission trip to Nicaragua returned with stories of not just how 300 people now have potable water in their homes, but also how through this experience these travelers grew closer to each other, to the people of Nicaragua and to God.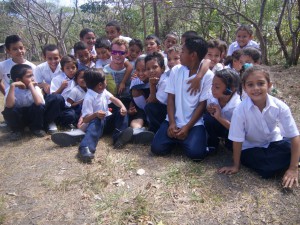 Water Well Clearing Effort
The Union Church responded to emergency appeals for help from the San Juan del Sur area after Hurricane Nate caused extensive flood damage to many of the local villages in October 2017 by providing funding and logistics help to pump out dozens of contaminated wells that serve as critical water sources for the communities. The video below shows the pump we purchased in action along with testimony from some of the people who once again have clean water.
---
Soo Laski presented this Mission Moment during the September 20, 2010 service.
Buenos Dias!

I appreciate the opportunity to give this mission moment. This is a trip year for Nicaragua Service Travelers! We go again in February 2014. You have been — and we need you to continue to be — the important parts of this mission.

It has been 11 years since we received our calling to go to San Juan del Sur. I have been blessed with the opportunity to go on several of these trips. Every trip is different, and amazing and each is a truly remarkable spiritual experience. Through our work in Nicaragua and the friendships we have made, it is clear that God has chosen us to be partners in Christ with the wonderful people of San Juan del Sur.

Although we provide much needed person power, work hours and financial resources, our gifts pale in comparison to the hospitality and gifts that the Nicaraguan people so freely share with us. We are blessed with their kindness and clearly see God's presence in them. Our church mission trip is unique — we make it intergenerational. This means that our youth are accompanied by at least one adult. I have found that it is very powerful to be able to share in the blessings of this service trip as families.

These blessings are only possible because of the love, care and support from each and every one of you. You have supported us by buying Christmas trees and poinsettias in December — please plan to do so again this year, helping the youth run a successful bake sale to raise money for school supplies, bringing Spanish books, and most of all keeping us in your prayers as we make our Seventh journey to San Juan del Sur — a community of people who need our support, our mission outreach and our church's commitment to them. Could all the people who have traveled please stand? There have been 64 of us so far!

If you are interested in learning more, please see anyone standing up now soon.

Muchas Gracias.
---
A letter from Yarisleidy…
In 2012 the Union Church In Waban sponsored a student from San Juan named Yarisleidy. This is the letter of appreciation she wrote after graduating.
To: Union Church of Waban Dear Sponsors,

It is a pleasure for me to write again, and take the chance to wish you a year full of success, love, peace and everything that God wants to fill your hearts with.Thanks to the foundation and all of you who are the inspiration for young people, today I can say that I have a degree in Business Administration with an average over 80% during my entire career. I am currently analyzing the possibility to study ecotourism of environmental engineering in Chile, I have some scholarships references but apply is now my challenge. Why Chile? Because it is one of the countries with advanced environmental education, obviously after Brazil, but they speak Spanish (hahahahaha). I am currently working on Comunidad Connect, coordinating the environmental projects and I like it a lot, it is a topic that I am passionate about and I want to professionalize in everything of social and environmental work. Talking about the "Community Service Program" that the foundation promotes, I have a project with kids that I am thinking on keep on working although I already graduate. In the project we are teaching English to the kids, we are also giving talks about values, education and motivation, also doing activities where they learn and reflect. I hope to keep in touch with you all, and someday soon I will be able to say "Hello, I'm here." My English is not perfect but I learn more every day, and with practices it gets easier.

Greetings to all! God bless you!

With love, Yarisleidy Cortez
---
More Information
More photos/videos and more information about the trips over the years visit our mission outreach photo gallery on the home page and our collection of videos from the trips. For more information about the Nicaragua Outreach Committee and how you could get involved email the church office or chair, David Spertner (617-549-1200).
---