"…for I was hungry and you gave me food, I was thirsty and you gave me something to drink, I was a stranger and you welcomed me, I was naked and you gave me clothing, I was sick and you took care of me, I was in prison and you visited me… just as you did it to one of the least of these who are members of my family, you did it to me."From Matthew 25
Taking our cue from Jesus' instructions to serve the least of these, twenty-seven of us from The Union Church in Waban participated in our two-day summer camp which we called "Sing, Soar and Serve." While the heat, humidity and thunderstorms cancelled the Sing around the campfire part of the camp, we were able to Serve many others and Soar to new heights.
Last Thursday we headed out on a day long trip to the Heifer Farm in Rutland, Massachusetts. Run by one of our congregation's favorite organizations, Heifer International, the Heifer Farm is a demonstration farm and global education center where programs introduce participants to the idea that one person can make a difference in ending hunger and poverty. Before heading out we learned about Heifer's founder, Dan West, a farmer from Indiana, whose focus on Jesus' call to help the least of these, led him to start donating heifers to victims of the Spanish Civil War as a way to help people get back on their feet by helping themselves. We also read the book "Beatrice's Goat," a fictionalized account of a family in Uganda helped by a donation of a goat from an organization like Heifer International.
Once at the farm, we took a tour of the 'Global Village,' an open air museum of houses and farmsteads representing the countries and conditions in which Heifer works.
This house from Peru was typical in size and simplicity of many of the houses we visited. Our guide challenged many of our assumptions about how much space and privacy people need to live. We were impressed to learn how many people could call such a small space home.
Most impressive to us was the use of animals. We found these guinea pig cages built alongside the house from Peru. Our guide explained that small guinea pigs are especially useful for good nutrition in Peru. Their small size makes them easy to raise. In addition, because the Peru house lacked refrigeration, a guinea pig provides a 'one meat meal', one without left overs that would need refrigeration. At many of the houses around the Global Village we also saw big plump white 'meat rabbits' used for the same purpose.
In the yard of the Peru house, we found llamas and alpacas whose wool is turned into textiles and sold for income.
Here is the house from Guatemala. It was built by Habitat for Humanity as a replica of the houses that Habitat builds in that country. We were especially interested to tour this house since two of our participants were born in Guatemala!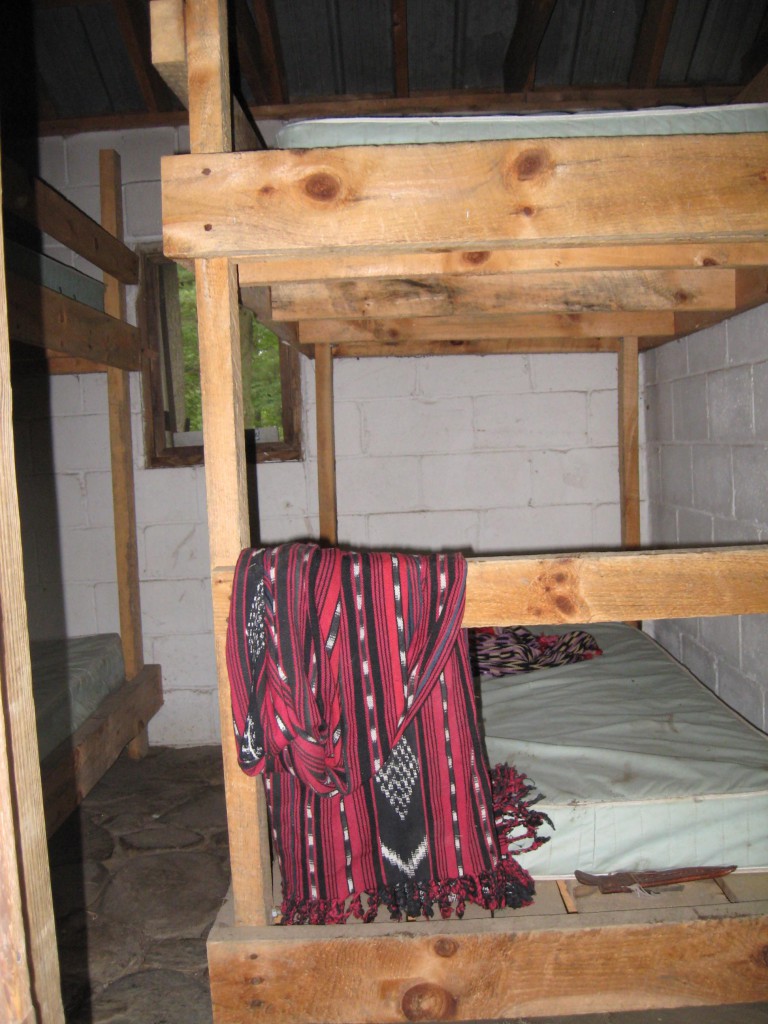 The house was one of several which contained bunk beds used by study groups who come to experience an overnight in the Global Village. Perhaps this is where our Youth Group will stay when we come for our weekend experience in November.
We were all most enthralled with Petunia the hog and her friends. Here you see Petunia taking a break from two weeks of hard work clearing this field. The overgrown, weedy field beyond the rope is how this field used to look not long ago. Although it was hard for us to imagine these hogs in action, Petunia and her colleagues are very effective at making the land suitable for new pastures and gardens.
All in all, it was amazing to visit eight or nine other countries around the world, and experience how people live there, without even leaving Massachusetts! The Heifer Farm is open to the public, so if you are interested in visiting, you can find more information here: http://www.heifer.org/visit/heifer-farm?msource=magento.
On Friday morning, we headed over to the Brighton warehouse of Cradles to Crayons, which provides donated essential clothing and school supplies to low income and homeless children, and provides meaningful volunteer opportunities for groups like ours. We were assigned to our favorite duty -– sorting and cleaning toys! Each time we visit C2C, it is always amazing to me how happy, industrious, focused and effective our children can be at cleaning for two hours.
At the end of our shift, we learned that all of our efforts had enabled over 80 children to receive toys.
After a break for lunch at the C2C warehouse, it was time to celebrate our day and a half of serving with some time to soar. We headed over to the Sky Zone indoor trampoline park in Hyde Park for an hour of intense and joyful jumping.
A big shout out to all of our chaperones and drivers: Jane, Karla, Theodora, Stacy, Timmy, and Nancy. You persevered through some bad directions, wrong turns, biting bugs, and uncomfortable humidity. Your generosity of time, sense of adventure and joyful outlooks made this a rich and rewarding experience for all of our campers. Thanks!