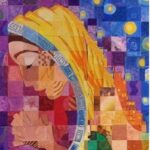 "Rejoicing in Stillness and Reflection"
Saturday, December 7th • 9 a.m. to 3 p.m. The Union Church in Waban

You are invited … to step out of the rush and stress that the holidays can bring. Come in from the cold and spend a day in the warm company of UCW women. We will create, learn, share, eat, and play as we receive the gift of Advent.
Child programing available. For more information, please be in touch with Cindy Spertner or Pastor Stacy. Please RSVP to Pastor Stacy by September 29.